Purpose Served?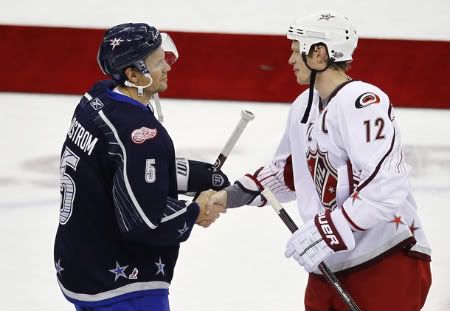 Photo Credit: Reuters Pictures.
Like anything else, the NHL All Star Game (and All Star Weekend as a whole) will receive differing reactions depending on who is asked. Some view it as pointless and refuse to watch. Some can do without it, but since it technically is a hockey game can't not watch. Others absolutely love it and get excited for it no matter what.
If you view it strictly as a hockey game, then of course it's not going to be something to talk about. Goals are exciting, but what's hockey without defense, great goaltending, hard hits, and special teams play? It's basically a simple game of shinny. You can always expect a high scoring game with offensive flare. But it's not about about a 60 minute hockey game.
The common trend of the weekend was talking about how amazing the Canes fans, or Caniacs, were. They definitely were fantastic. That shows you the popularity of the whole weekend. It was one big three day hockey event. That's what made it so exciting.
Personally I'd have to give the new format two thumbs up. The Fantasy Draft received mixed reactions, but I thought it was a fantastic idea. It made it the actual game interesting and the draft itself was fun to watch. The players were great sports. It made for entertaining TV. The Staal's were hilarious, Patrick Kane was great, Matt Duchene was hyper and humerus as always, and Ovechkin was Ovechkin. It gave you a chance to see how down to earth hockey players can be and of course bring back memories of picking teams as kids.
The SuperSkills Competition is always fun to watch. It is without a doubt the best part of All Star Weekend. Of course it doesn't necessarily show you who the fastest skater in the NHL really is or who the most accurate shooter is, but for hockey fans it's something to look forward to. It gives you a chance to see the skills of players you aren't really familiar with. Loui Eriksson is a great example along with a rookie like Michael Grabner. Maybe there's a player that you held a grudge with because the player plays for a specific team you may not like. Well that can be put aside for the weekend (and hopefully maybe forever). The talent level of these guys is incredible and to see it displayed in one night like that is absolutely wonderful. It gives you a whole new appreciation for the game of hockey.
Yesterday the actual All Star Game took place. What can you really say about it that I didn't touch on in the beginning? It's not going to change. It is what it is. But the fact that it is made into an "event" is what makes it fun. The intro with the kids in the beginning was outstanding. Having players mic'd up was entertaining as always. And I thought the pre-game coverage on the NHL Network was great. Even though it was just a silly game, players still had their pre-game routines to stick to. The game did get boring as it went on, but the amount of people watching in showed that it was hard to turn off anyway.
The question of this blog was if the NHL All Star Weekend served it's purpose. The answer to that question is yes. It's fun to get away from the grind of the season and away from team and player rivalries. It's a chance to appreciate all the great players in the league, to come together as hockey fans, and just enjoy some fun with hockey. It's now time for the push to the playoffs to begin and for the wins to count even more. That's what matters not. But as a weekend of hockey fun, this past weekend was great in my eyes.
Alicia Sprenkle:
www.twitter.com/activestick_44