DROP THE PUCK ALREADY!!!
(Credit picture to Habs Inside/Out)
After what's proven to be a VERY long summer and pre-season, the puck FINALLY drops for real tonight, and the highlight of the night is certain to be the match-up between the Canadiens and Maple Leafs at the ACC, slated to air on the return of Hockey Night in Canada tonight in primetime!
Can you wait? I'm on the edge of my seat at work, fidgeting and constantly distracted. It's going to be a long few hours until the game starts!Nevertheless, there is still a lot to talk about until 7PM tonight.
Both the Habs and Leafs have an all-new look. The leafs enter the fray tonight with the Monster sitting on the bench, just itching for Toskala to lose management's confidence. Their forwards have a lot to prove to all the critics who don't think that the Leafs are very deep amongst their top nine forwards. Finally, their blue line will include at least 3 new players who have already managed to garner a reputation around the league as one of the strongest defense corps since the Canadiens iced the ''Big 3'' in the 70s (thanks Pierre).
And amongst all these changes, amongst all this excitement around the 2009-10 version of the Toronto Maple Leafs, there will be a thorn sticking out of the leafs line-up like a black guy at a U2 concert.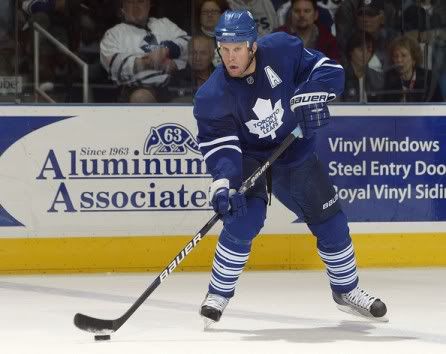 Oh, you know it. This city just can't stop taking about him and the affect he's had on the mindset of this fanbase. And I know I've ranted about him before, but it cannot be stressed enough. Komisarek is the player that will be sticking out tonight, no matter what he does. He will be challenged, and he will receive a lot of attention.
There has been speculation that Laraque might try to go after him and get him to drop the gloves. Laraque has 2 goons he can stage fights with on the other side of the ice, but if he wants to keep his role on this team he needs to be in-your-face and a pest out there. He might just be satisfied with winning staged fights, travelling with the team and collecting 1.5 million to essentially give interviews, but Komisarek has essentially said ''Bring it on'' these past few days about being challenged, and that means Laraque should be all over him (if not Max Lapierre, Ryan O'Byrne or Travis Moen, if the Habs can get the right match-ups) but that doesn't mean he's going to fight, and honestly, he shouldn't. It isn't his job and his role is too important to the Leafs, on the first pairing with Tomas Kaberle. But in this city, if he doesn't drop the gloves, he's a coward. And it's actually somewhat unfortunate.
Komisarek is a marked man, and if he decides to play physical, like he should be playing, he's going to be targeted, and he's going to have to deal with it.
So Komisarek is definitely THE person to watch tonight.
----------------------------
LINE-UPS
Courtesy of François Gagnon at Cyberpresse.
MONTREAL CANADIENS
Max Pacioretty - Scott Gomez - Brian Gionta
Andrei Kostitsyn - Tomas Plekanec - Mike Cammalleri
Guillaume Latendresse - Maxim Lapierre - Matt D'Agostini
Georges Laraque - Glen Metropolit - Travis Moen
Andrei Markov - Jaroslav Spacek
Hal Gill - Paul Mara
Josh Gorges - Ryan O'Byrne
Carey Price between the pipes.
Missing in action:
- Roman Hamrlik (presumably still out with an illness, although you'd imagine someone as important as Hamrlik will be ready.. odd). Although Habs Inside/Out is reporting that Mara and O'Byrne are questionable for tonight, so that's something to look out for.
- Kyle Chipchura is injured and is probably only still travelling with the team because he'd have to clear waivers in order to be sent down.
TORONTO MAPLE LEAFS
Jason Blake - Matt Stajan - Viktor Stalberg
Niklas Hagman - Mikhail Grabovski - Alexei Ponikarovski
Lee Stempniak - John Mitchell - Rickard Wallin
Colton Orr - Wayne Primeau - Jay Rosehill
Tomas Kaberle - Mike Komisarek
François Beauchemin - Luke Schenn
Ian White - Garnett Exelby
Vesa Toskala between the pipes (that is, until he gives up 5 goals and the Monster replaces him. Just teasing, Leafs fans ;))
Missing in action:
- Phil Kessel is out until November.
- Mike Van Ryn is injured... surprised?
---------------------------------------
Predictions and final thoughts
I expect a very physical game tonight. Multiple fights aren't out the question. This game could very well end up a barn burner.
Final score prediction: 5-4 Habs in a shootout.
Goals by each of the new Smurfs (Camalleri, Gionta, Gomez) and one from Guillaume.
For the leafs, Grabovski with 2, Kaberle and Blake with 1 each.
Is there anything else to say? We could talk about match-ups, line combinations, how much I hope Bob Cole doesn't call the game tonight, etc, but in the end, the talking will be done on the ice, tonight, at the ACC.
Just drop the damn puck already!
Comments and flame wars in the form of comments appreciated :)