Habs game 3 preview: Canadiens set to saddle up against flames! DOUBLE Update: Bergeron signs!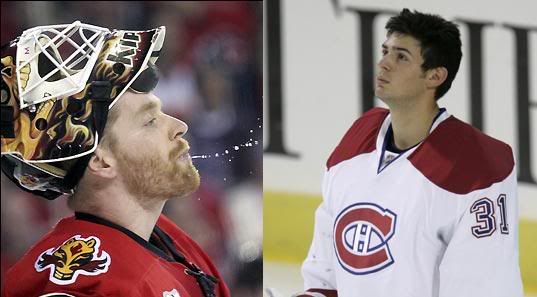 UPDATE 3:45PM: Bergeron officially a Hab, according to TSN and RDS.
Text Size
Looking to fill a need at defence caused by the injuries to Andrei Markov and Ryan O'Byrne, the Montreal Canadiens found some help in the free agent market.

According to RDS.ca, the Habs have signed Marc-Andre Bergeron to a one-year, $750,000 contract.

Bergeron spent last season with the Minnesota Wild. He recorded 14 goals and 18 assists in 72 games in 2008-09.

Prior to his time with the Wild, The 28-year old played parts of his six-year career with the Anaheim Ducks, New York Islanders and Edmonton Oilers.
--------------------
It's been over 20 years since the Montreal Canadiens and the Calgary Flames faced off in the playoffs, a series in which the Flames won their first and only Stanley Cup. It's been even longer since the Canadiens and Flames faced on in 1986, where the Canadiens won their 23rd stanley cup. Since those two series in the eighties, both teams have made the cup finals once, but only the Habs were successful in capturing another league title.
What does this have to do with anything?
Nothing really. But as a lifelong Habs fan, while I was too young to remember either series, every time the Canadiens and Flames face off, it just has to be a little special for fans of both teams. The teams don't face off often, and the games usually reflect that in the tempo and excitement, whether the game is at the Saddledome or in the Phone Booth.
And I fully expect these two teams to renew hostilities tonight with a jump in their step. Big hits, lots of goals, odd-man rushes, great goaltending on both ends, maybe a couple of fights, and I don't expect anything less.
Ok, maybe I'm getting a little over-excited for the 3rd game of the season, but hey, the storylines are there! Kipper and Price have been awesome early in the season. Calgary's defense is tough and bruising, and the Canadiens have added some tough and rugged players who won't quit on any play. Both teams have new coaches implementing new systems, and new players getting used to each other. Both teams are undefeated early in the season, but that title can only remain for one of these two teams, once it's all said and done, tonight in Calgary!
----------------------------------


LINE-UP NEWS AND NOTES
Pat Hickey reports that Kyle Chipchura will be in the line-up tonight, taking the place of Glen Metropolit, who is listed as day-to-day with bruised ribs after leaving the game against the Sabres in the 1st period. This is Chipchura's 3rd season in a row starting the year with Montreal, and he's hoping that it won't be the 3rd season in a row he gets sent back down to Hamilton. If it is, he will have to go through waivers, and most believe that he will probably be claimed by a team that could insert him into their line-up.
Chipchura will be joining Greg Stewart, who made a pretty bad impression on the coach on Saturday night after taking a bad penalty and sitting out most of the game, and Georges Laraque who has impressed many people in the first 2 games despite his minimal ice time.
The top 9 will most likely remain intact, with Matt D'agostini eating hot dogs in the press box.
On defense, recent call-up Yannick Weber joins the decimated blue line crew to ease the pain on the losses of O'Byrne and Markov. He will be paired with bearded tough guy Paul Mara. Hal Gill joins Josh Gorges on the second pairing and the Czech pairing of Roman Hamrlik and Jaro Spacek remains duo number one.
UPDATE 2:45PM: Halak will get the call for the first time tonight. O'Byrne is confirmed out for 8 weeks...
--------------------------
M-A BERGERON TO MONTREAL?
Habs Inside/Out and RDS are reporting that the Canadiens are in talks with free agent defenseman Marc-André Bergeron to relieve injured defensemen Ryan O'Byrne and Andrei Markov, at least for the time being.
This is a rumor that surfaced on the internet over the weekend, and I was quick to shoot it down as being stupid. Bergeron can help the powerplay, but he is pretty much useless aside from that. Granted, he has something to prove after being rejected by Minnesota and 28 other teams, but there is certainly a reason he isn't signed yet. And from all accounts, it sounds like that reason is that he's basically a 38-year-old Patrice Brisebois in a 28-year-old's body.
It's obvious that a defenseman needs to be added to this group, but I hope Gainey doesn't make the hasty mistake of having that person be Bergeron, as there are much better options out there.
Maybe we're underestimating Marc-André, but to me, it just strikes me as the bad move. We'll see if this rumor pans ou tin the coming days...
------------------------------
Well that's it for now folks! Looking forward to an exciting game tonight and hoping that Price will continue leaving up to this season'ss expectations.
I'll be back with a game review and a Game 4 preview vs. the struggling Vancouver Canucks and Roberto Luongo tomorrow.
Before I go, let me welcome our two new bloggers, Dustin Leed, a great writer who will blog about the Flyers for us. Also, Anthony Curatolo joins us with his match predictions, which will hopefully be posted on a daily basis. Both join us from www.crashthecrease.com, so check out their site, and check out their blogs on here!
For now, make sure to register on our site if you haven't done so, and to visit and post on our forums!
Also, check us out on twitter, where I will be updating and breaking news as much as possible.
Thanks for your continued support!