Many records to be broken as Habs visit Martin Brodeur and the Devils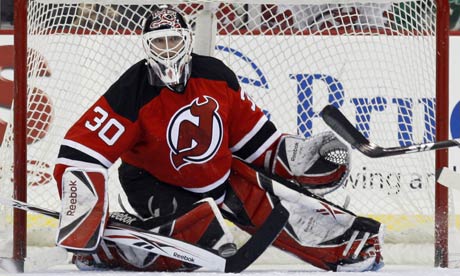 I don't think many fans would consider a game between the New Jersey Devils and the Montreal Canadiens ''exciting''. Usually low scoring and boring, tonight's game in Newark has the potential to be even more boring than usual.
Both teams have new coaches, and neither is very well known for an exciting brand of hockey. The Devils hired a familiar face this past off-season, bringing former Montreal Canadiens forward Jacques Lemaire back to coach the team. Ironically, Lemaire was a point-per-game player as a Canadien in the seventies (then again, who wasn't?), before becoming one of the most infamous defensive coaches in the history of the league, and a notorious user of the neutral zone trap.
A professional of almost 20 years, Lemaire is amongst some prestigious company in terms of coaching. He's coached the 8th most amount of games at 1,131 (Jacques Martin is 10th with 1,098), he has the 9th most wins at 540 (Martin is again 10th with 517), and he'll be even higher on these lists when it's all said and done. Lemaire is a hall of famer as a player, but should very well be in there as a coach. He couldn't be at the centennial ceremonies a few weeks ago, obviously, so tonight is somewhat a homecoming for Lemaire.
But tonight won't be about Lemaire. It will be about a single player on the Devils roster, one that Habs fans know very well.
Tonight, Martin Brodeur has a chance to break yet another record, as he looks to surpass Terry Sawchuk's 103 career shutouts. Last year, Brodeur tied Patrick Roy's record amount of wins at 551. Brodeur has long surpassed the record, now sitting at 577 wins and quickly putting the record out of reach for most young goaltenders.
But win or lose, March 14th, 2009 was a special night. Maybe not for Habs fans, but certainly for Montrealers, as the city native received a standing ovation from fans in the 4-1 victory over the Habs at the Bell Centre. I was in attendance for that game, and despite being a die-hard Habs fan, I can tell you it was a special moment, especially with Patrick Roy in the building for the milestone.
With that record long behind Brodeur, he looks to break the shutout record tonight. And even if he doesn't, he will still break a record, tying Patrick Roy's 1,029 record season games between the pipes.
Unfortunately for the Habs, tonight is all about Brodeur, and having watched one of the greatest goalies in NHL history destroy the Habs year in and year out (35-15-5-0 all time record against the Canadiens), you can't help but have a bad feeling about tonight's game.
The Canadiens go into tonight's tilt looking to break a 3 game losing skid, and will have much trouble doing so.
The major change I expect in the Canadiens line-up is for Carey Price to see a return to action after sitting Monday's 4-3 loss to the Sabres. Price has a big opportunity tonight to steal the spotlight from Martin Brodeur. The question is, can he pull it off?
Lapierre returns to his third line center role, replacing doghoused (not sure if that's a word) Glen Metropolit after sitting in the penalty box for two game-losing PKs in a row recently. Lapierre will center Pacioretty and Moen, and Metro will presumable drop to the 4th line.
STATS:
*Note: Injured players are ommitted from stat leaders.
--
HABS
DEVILS
Goals:
Cammalleri (18)
Parise(15)
Assists:
Plekanec (28)
Langenbrunner (21)
Points:
Plekanec (34)
Parise (35)
Pluys/Minus:
Cammalleri (+10)
Parise(+18)
Time on Ice:
Hamrlik (24:49 per game)
Greene (23:49 per game)
PIMs:
Gill (37)
Salvador (28)
Shots:
Cammalleri(114)
Parise (135)
SVP:
Price (.913)
Brodeur (.920)
GAA:
Price (2.76)
Brodeur (2.14)
Record:
Price (9-11-3 24GP)
Brodeur (20-8-1 29GP)
Injuries:
Markov (ankle, day-to-day)
Gionta (foot, day-to-day)
Pouliot (wrist, conditioning stint)
Mara (upper body, day-to-day)
Martin (broken arm, end December)
Zubrus (broken kneecap, end December)
Clarkson (broken ankle, end December)
Last 10:
3-5-2, lost 3
8-2-0, won 1
Standings:
15-16-3, T8th, 33 points
22-8-1, 4rd, 45 points
GF/GA per game:
2.47GF, 25th/ 2.85GA, 18th
2.77GF, 17th / 2.16GA, 2nd
PP/PK %:
20.6%, 10th / 83.4%, 9th
22.0%, 5th / 80.8%, 15th
WHAT THE STATS SAY:
The only chink in the Devils armor seems to be their penalty killing. The otherwise defensively sound hockey team sits in the middle fo the pack in the PK, and the improving Canadiens' powerplay should look to take advantage of that. The PK will need to be strong once again, as the Devils don't get many powerplay opportunities, but take advantage of them. The Canadiens have the worst PK to PP opportunity differential. They're the most penalized team in the league, and the team with the least amount of powerplays. As the Devils play a trap and a puck possession game, this doesn't bode well for the Canadiens. An experienced and savvy Jacques Lemaire will make sure his team takes advantage of this.
Therefore, if the Canadiens do get any powerplay opportunities, they are going to need to take advantage of them. Price will need to be near perfect if he expects to come out with the W, and the top line of Cammalleri, Plekanec and Kostitsyn will need to have the type of game they did on Monday (combining for all 3 goals and 4 assists) if the Habs want any chance of winning this one. Hamrlik and Spacek will also need to have a strong game, with Parise, Langenbrunner, Zajac, and rookie Bergfors are strong offensive threats, among others.
Can the Habs win this one? Certainly. Will they? The odds are against them.
FINAL PREDICTION: Devils 2 - Habs 0, Brodeur breaks the record.
LINKS:
- RDS game story. *French*
- Hamilton Bulldogs report - Dec. 16th from official Canadiens site. The Dogs have 4 shutouts in their last 7 games, and losers of only 1 in regulation in that stretch. Ryan Russel is touted as leading the charge offensively during that stretch.
- All the details and discussion on the Jaroslav Halak trade talk from yesterday.
-New TSN Pun of the Day will make you spit out your coffee.
- We're pleased to welcome Kevin Freiheit to our community of bloggers! Kevin will be covering the Sabres on TCL. In anticipation of his first blog, please vitit his website, totally devoted to the Buffalo Sabres! Welcome aboard Kevin!
That's all for today, enjoy the game! Tomorrow, Guillaume Latendresse returns to town with the Minnesota Wild. The French media is going to have a seizure.
Prax
www.thecheckingline.com
www.twitter.com/thecheckingline