Off-Season Analysis: The Forwards - Best of the Rest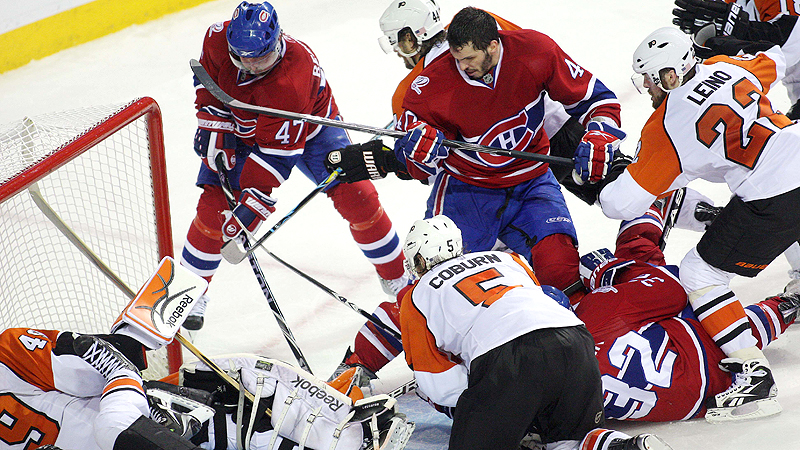 Last week, we ranked the top-six forwards for the Canadiens this past season, and looked at what might be expected of them as 2010-11 quickly approaches. But as important as having players who score goals and put up big points is, a team obviously can't play with only two lines. In many instances, the "bottom 6" are just as important as the "top 6" to most teams. The Habs' Travis Moen is living proof of that, proving himself to be a deciding factor in the Anaheim Ducks Stanley Cup victory in 2007.
Do the Canadiens 3rd and 4th lines stack up against the good checking and energy lines around the league? Do the Habs have what it take to ice a group of forwards as good as the one that took them to the Conference Finals last year? It's hard to say. Especially with the loss of two veteran forwards to free agency in Glen Metropolit and Dominic Moore.
Ranking the forwards below the top 6 is going to be a little trickier than the job we did last week. Outside any potential training camp swaps we might see between Benoit Pouliot, Andrei Kostitsyn, and anyone who might impress enough to take their spots, the top six forwards the Canadiens iced last season are likely to be the top 6 forwards we're going to see in October.
On the other hand, we can say with fair certainty that the bottom six is going to look a little more different. Despite some heroics both during the season when the Canadiens were ravaged by injuries, as well as during the playoffs, Glen Metropolit and Dominic Moore were let go as free agents. Sergei Kostitsyn and Guillaume Latendresse were traded out of town, and Georges Laraque was rather unceremoniously fired in a very public and controversial decision by Bob Gainey before he stepped down as the Canadiens' general manager, only to be replaced by Pierre Gauthier..
Despite the fact that these 5 players will NOT suit up for the Canadiens next season, they still had an impact on the team and deserve some unranked grades, before, of course, we get to the players who will see ice time for the Habs next year.
Glen Metropolit scored 16 goals and added 13 assists for 29 points in 69 names, despite suffering several injuries throughout the season and a shoulder injury in the playoffs that most thought meant the end of his season, maybe even his career. Keep in mind this 36 year old played most of the season in Jacques Martin's doghouse and on the 4th line, ending the season with an average of just over 13 ½ minutes of ice time. The most impressive stat? Ten of his 16 goals were on the powerplay. One can understand why the coaching staff and management would want to try and groom a younger player in Metropolit's spot, but is there a young player in this organization that can step in and provide the secondary offense that Metropolit did, against all the odds? Whether there is or not, Metro was a class act, a hard working and tough player who gave more to this team than could have ever been asked of him.
2009-10 Grade: A
-----------------------------
I was never a big fan of Dominic Moore. He always struck me as somewhat of a selfish player, ever since he tried to use the Leafs to cash in on a big contract. So you can imagine my reaction when I found out that the Canadiens traded a 2nd round pick to the Panthers for a player no one really wanted. Losing a 2nd round pick for a 3rd line rental still kind of stings, but Moore was admittedly a nice surprise. Through 21 games as a Hab, Moore didn't score many goals (2), but he produced points at more than a .500 rate and remained defensively responsible. He really shined in the playoffs, scoring 4 goals, including a game winner, and really helping the team. Although he doesn't really fit in with this team's plans, it would have been nice to see him stick around.
2009-10 Grade: B+
-----------------------------
What else can we really say about Sergei Kostitsyn, Guillaume Latendresseand Georges Laraque. Many blogs, many articles, much discussion and way too much time has been wasted discussing these two fringe forwards who were nothing but a nuisance to the Canadiens the time they spent here. All there is to say, is good riddance.
2009-10 Grade: F (and yes, that stands for a 4-letter word, followed by a 3 letter word. A TCL hat for the person who figures it out first)
-----------------------------
With these guys out of the way, the Canadiens still have a 3rd and 4th line to put together for next month. I kind of have a feeling they will be trying to replace the secondary scoring and experience of guys like Metropolit and Moore through a cheap-ish free agent signing, but assuming the rest of this team will be built from the inside, here is what ranks 7 through 12 of the Canadiens forwards looked like last season, and who I think will make up the bottom 6 come October 7th:
---------------------------------
7. TRAVIS MOEN
2009-10: 81GP - 8G - 11A - 19PTS - -2
Playoffs: 19GP - 2G - 1A - 3PTS - Even
2009-10 Season: Travis Moen missed but a single game of the 2009-10 season. The reason? He needed to get 50 stitches in his face after a puck struck him near the eye. Moen barely missed a beat upon his return two days after the incident. If that isn't hard nosed and dedicated, I don't know what is. A lot of people expected Moen to be this team's new fighter, the tough guy, or something of that nature. Clearly, he was a lot more than a just tough guy, ending up being a very important part of this team's 3rd line.
Outside of the 2006-07 season, in which Moen won a Stanley Cup with the Anaheim Ducks and scored a career high 11 goals, this past year was Moen's best in the NHL. Eight goals may not seem like much, and frankly, half of them were bunched up fairly early in the season, but Moen provided more than just secondary offense. He was second on the team with 161 hits, second amongst forwards with 51 blocked shots, and seldom gave up any pucks. He averaged nearly 2 ½ minutes per game on the penalty kill, nearly 20% of his total ice time.
There really isn't much to complain about when it comes to Travis Moen, but considering some of the injuries suffered by the Habs and the fact that he often found himself in a more prominent role when the Canadiens were facing tough injuries, he could have put up a few more points. Otherwise, he was all you could have asked for from a 3rd line player.
2009-10 Grade: A-.
2010-11 Expectations: Considering the Canadiens gave up two veteran forwards who can jump up and play on a top 2 line with injuries, and Moen's connection with Gionta and Gomez in the playoffs, you can expect Moen to see more ice time on a top line if there are injuries, or if things don't work out with Pouliot. That being said, Moen will have to provide a bit more offense if he expects his expanded role on the team to last. Otherwise, if he continues doing what he does best in his checking role, he should do fine. Ten goals and another 12-15 assists for about 22-27 points is what should be expected. Moreover, it would be nice if he could up his hits to about 200 for the season, a 40-hit improvement over last season.
---------------------------------
8. MATHIEU DARCHE
2009-10: 29GP - 5G - 5A - 10PTS - +2
Playoffs: 11GP - 0G - 1A - 1PTS - -1
2009-10 Season: No one here is going to tell you that Mathieu Darche isn't a 4th liner in this league, despite the one season he was lucky to play alongside Vinnie Lecavalier in Tampa Bay two years ago. But over the last few months, Darche has proven to be quite a fine 4th liner. An experienced veteran who's played in many leagues and many cities, Darche has a chip on his shoulder and the desire to make it in the NHL any way he can. Last season, he proved his worth to the Habs, scoring 5 goals in only 29 games, and adding another 5 assists. The most interesting stat? Three of his goals in the regular season were game winners.
All this while averaging only 10 minutes of ice time, and receiving only the occasional shift on the powerplay. His grade drops, unfortunately, because of his disappearance in the playoffs, but his versatility, his offensive upside and his owning-the-moment attitude have earned him a B rating and another year with the Canadiens.
2009-10 Grade: B.
2010-11 Expectations: Keep doing what you're doing, Darche. No one will expect him to score at the same pace he did in 29 games last year, but if he can provide anywhere between 5 to 10 goals and another 10-15 assists, he will have once again earned himself a contract. That being said, on October 7th against the Leafs, he starts the season in the pressbox. Call it a hunch.
---------------------------------
9. MAXIM LAPIERRE
2009-10: 76GP - 7G - 7A - 14PTS - -14
Playoffs: 19GP - 3G - 1A - 4PTS - -2
2009-10 Season: Love him or hate him, Maxim Lapierre is the closest thing to a hometown hero this team has, and with Guillaume Latendresse and a lot of experienced forwards having left town, he is here to stay, and he will have a prominent role on this team right out of training camp.
Lapierre had a roller coaster season this past year, a season which included the loss of his best friend on the team in Latendresse via trade, a 4 game suspension and a heavy amount of criticism. His 7 goals, 14 points and -14 rating were a far cry from the career season he had last year (15G – 13A – 28PTS - +9), but Lapierre still managed to somehow lead the team in hits in both the regular season and playoffs, all culminating in a very memorable game 6 game-winning-goal against the Pittsburgh Penguins at the Bell Centre, forcing a game 7 and even getting Lapierre his own commercial.
2009-10 Grade: C+.
2010-11 Expectations: Overall, you can't be too disappointed with Lapierre's performance. The hits are about as much as you can ask of him, but considering his role on the team, and, again, the recent decrease in depth in this role, he will definitely need to step his game up, offensively. No excuses now, no distractions, 15 goals is the expectation. And if he can't achieve this pace early in the season, if he has another slow start, the Canadiens will have Dustin Boyd and a plethora of young talent to take his spot. With free agency once again looming for Lapierre in 2011, the pressure will be for the Saint-Leonard native.
---------------------------------
10. TOM PYATT
2009-10: 40GP - 2G - 3A - 5PTS - -5
Playoffs: 18GP - 2G - 2A - 4PTS - -1
2009-10 Season: Tom Pyatt was an after-thought of the Scott Gomez trade. Like most major trades of this nature, GMs often ask for a low-ranked prospect to be "thrown in" to make a deal a little more savoury, or in the case of this particular deal with the Rangers from last year, easier to swallow. Most fans kind of laughed at Tom Pyatt last summer, asking themselves who this player was, after lamenting the addition of Scott Gomez's salary. Somehow, however, Tom Pyatt has worked himself onto the Canadiens' line-up, and into the heart of coach Jacques Martin.
Recalled from and sent back down to the AHL 3 times between October and March, it was hard to say what Tom Pyatt was going to be for this team. He definitely shined in Hamilton, scoring 13 goals and adding 22 assists, with a +17 ratings in 41 games with the Bulldogs. In Montreal, he was far from an offensive threat to anyone, nor did he really hit that much or block shots. But he was stable, consistent, and defensively responsible in his role on the 4th line, shining especially in the playoffs, under the pressures of the team, the coaching staff and of course, the fans. Frankly, it's difficult to see what Pyatt brings to this team in terms of tangibles, but he's good enough to keep around, and he's good enough for a C rating.
2009-10 Grade: C.
2010-11 Expectations: It's hard to know what to expect of Tom Pyatt next season. Will he replace a Dominic Moore type of player, or will he remain on the 4th line as a mostly even strength energy-slash-shutdown guy? Will he become a pivot for the 1st or second line with injuries, or is he simply there to be Jacques Martin's work horse? Only time will tell, but he definitely needs to hit more, and try to put up a few more goals, around the 8 that Moen did last year. Expect him to start on the 4th line, barring any setbacks at camp.
---------------------------------
11. RYAN WHITE
2009-10: 16GP - 0G - 2A - 2PTS - -6
Playoffs: N/A
2009-10 Season: Although we only got a glimpse of Ryan White this past season, I have to say that I was impressed with what I saw. Only 2 points in 16 games and a -6 rating, but White had an impressive 47 hits in those games, and provided energy for the Habs on nearly every shift. The Canadiens ran out of call-ups as the season came to a close, so they couldn't bring him up, but frankly, the extra experience he received playing an important role in the Bulldogs own Cinderella run in the AHL playoffs may be a blessing in disguise. If I had to bet, I'd say that White will work his way into a spot on the roster at training camp. And while his grade maybe a little higher than some of the players above him, he drops to number 12 on the chart simply due to the fact that he played the least amount of games.
2009-10 Grade: C+.
2010-11 Expectations: White held a pace of nearly 3 hits per game this past season, a figure that would put him at 250 hits if he played the entire season in Montreal. If he wants to stay here, that should be his goal. That, and of course, scoring at least his first NHL goal! While some may consider it a long shot, I would like White to start the season on the 4th line with Tom Pyatt and Dustin Boyd, giving the Canadiens a proper 4th line, with lots of youth, enthusiasm, and energy.
---------------------------------
12. MAX PACIORETTY
2009-10: 52GP - 3G - 11A - 14PTS - -5
Playoffs: N/A
2009-10 Season: Unlike players like Darche, White and Pyatt, Max Pacioretty actually played himself out of Montreal last season. There were high expectations for the young American forward after he left the CCHA in 2008 to turn pro and play for the Canadiens, but after a decent 2008-09 season in which he scored 3 goals and 8 assists in 34 games, he kind of floundered. It was hard to figure out what exactly was expected of Pacioretty this past season. His frame and his pedigree imply more offensive prowess, and of course Jacques Martin and his staff expect their young players to be defensively responsible. But looking back on his season, I really can't recall Pacioretty doing anything "wrong". I can understand that he didn't do much right either, that he was just kind of there, so hopefully the 18 games he spent in Hamilton were a wake-up call. As far as his 2009-10 season goes, Pacioretty receives a modest and average C-.
2009-10 Grade: C-.
2010-11 Expectations: It's safe to say Pacioretty will get another chance this upcoming season, barring any major setbacks at training camp. If I had to guess, I'd say he starts the season on a line with Maxim Lapierre and Travis Moen, as the Habs checking line. If this ends up being the case, Pacioretty will need to at least double his production from last year if he expects to stick around: 6 goals, 20 assists is the minimum, assuming he gets the occasion chance on the powerplay and a top line. Hopefully, the guidance of Max Lapierre and Travis Moen will allow him to produce a little more and finally break out.
---------------------------------
BEST OF THE REST
- David Desharnais only played 6 games with the big club last year, registering 1 assist, but the 23 year old Montreal native did not look out of place in a Habs uniform (cue jokes about his 5'7" height). I doubt he starts the season in Montreal, but expect him to be called up with some of the first injuries.
- Ben Maxwell saw a lot of the Canadiens' pressbox this past season, but it also means he saw and participated in a lot of practices. Its hard to gauge where he stands with the Habs. The staff obviously has enough faith in him to keep him around the team. But does that rather mean that he doesn't fit into long term plans with the Habs, and that his development doesn't really matter, or that he is expected to make the team this year?
---------------------------------
NEW ARRIVALS
There are several players that will certainly crack the line-up of the Canadiens this upcoming season, and several others who are on the shortlist:
- Dustin Boyd was acquired by the Canadiens before free agency in exchange for Sergei Kostitsyn. Despite being his 3rd team in a year, the Habs definitely acquired Boyd to start on their roster, and will take a spot on one of the bottom two lines, likely centering the 4th.
- The other trade that saw the Canadiens acquire a forward was the Jaroslav Halak deal, which, of course, brought Lars Eller to Montreal as the centerpiece of the deal. Whether Eller makes the Habs out of training camp is anyone's guess. Considering the logjam of 3rd-4th line forwards on the team, and the nature and expense of the players in the top six, Eller might be best served biding his time in Hamilton before getting called up for a 1st or 2nd line assignment down the line, if a spot opens up. That being said, I would nearly guarantee that he eventually wears the Bleu, Blanc, Rouge, at the very least to try and justify trading Jaroslav Halak for prospects.
- Ian Shultz was the other player acquired in the Halak deal. At 20 years old, coming off four years with the Calgary Hitmen in the WHL, Shultz is nearly guaranteed to start in Hamilton. However, if the likes of Pacioretty, Pyatt or White don't pan out in their roles, and Shultz has a good start with the Dogs, he could very well find himself being one of the first call-ups.
- Surprisingly, Gabriel Dumont has fallen off a lot of people's radars as a potential Canadiens' forward for this upcoming season. Coming off a great run with Drummondville of the QMJHL, where he scored 93 points and ranked 3rd in scoring in the league this past year, Dumont could have an outside chance of impressing at camp and making the team. In all likelihood, he'll start in Hamilton, as the Canadiens have made the mistake of mismanaging their player development too many times in the past. But keep an eye on Dumont, as his development has been progressing fairly well.
- Alexander Avtsin is another player to get excited about if you're a Habs fan. There is far more good to say about him than there is bad, and the 19 year old recently made the decision to sign a pro contract with the Canadiens. The implication is, of course, that Avtsin will play for the Bulldogs, but like Dumont, keep an eye on this one.
- Finally, we have to mention Louis Leblanc. He will definitely start the season with the Montreal Junior, but with injuries and the fact that he's eligible to play pro, unlike most 19-year-old Canadian prospects, thanks to his time in the NCAA, you never know…
While the 12 forwards the Canadiens are likely to start with might not look as impressive as one would have hoped, coming off a final 4 run in this past year's playoffs, there is much more hope for the team than some fans might give credit for, through the acquisitions that have been made and some of the up-and-coming players. Maybe none of them beyond Dustin Boyd make the team. Maybe the 12-14 players ranked above is what the Canadiens are going to be stuck with as the season starts. But Habs fans can at least take solace in the fact that there is some hope down in the farm.
As it stands today, barring any other acquisitions, my prediction for the Habs opening line-up up front is as follows:
Benoit Pouliot – Scott Gomez – Brian Gionta
Andrei Kostitsyn – Tomas Plekanec – Mike Cammalleri
Travis Moen – Maxim Lapierre – Max Pacioretty
Tom Pyatt – Dustin Boyd – Ryan White
Pressbox: Mathieu Darche
Do you agree or disagree? Please let me know in the comments, and provide your own rankings and depth chart!
And in the coming days, expect an analysis of the defensive corps before we get to the goaltenders and coaching staff.
Enjoy the week,