The six best teams in the NHL: Who will win each division?
A lot of teams have made changes this past off-season, which is going to make for an interesting season in every division this year. For the first time in a long time, the Central division is competitive from top to bottom. The Northeast, Atlantic and Northwest divisions will be intense, as always. Even the Southeast is tough to predict, with both Washington and Carolina having legitimate shots at winning the division, and Atlanta, Florida and Tampa all improving to the point where, while they may not make the playoffs, at least 2 of them might be able to come close. The only real ''gimme'' division seems to be the Pacific division, and even then, it could go to either Anaheim or San Jose.
While my predictions will probably only be posted later in the week, I thought it would be fun to give a little bit of a preview, and reveal, in no real order, who I think is going to win every division and why. While all of this is obviously ''on paper'',and based on the fact that teams remain healthy and perform as expected, I now present to you, 6 teams to look out for this upcoming season, and what are basically my picks for each division's winner for this upcoming season:

------------------------
WESTERN CONFERENCE
------------------------
PACIFIC DIVISION: ANAHEIM DUCKS
The Ducks made a splash in last year's playoffs when a lot of people weren't sure if they'd even make the playoffs. Well, not only did they make it to the post-season, but they managed to knock off the Stanley cup favorites in the San Jose Sharks. Then they took last year's Stanley Cup winners to the brink of elimination before losing to Detroit in 7 games in the second round of the playoffs. No one saw them coming. And looking at this year's predictions from most major sources, while most are putting them well within a playoff position, I don't think many people are taking this team seriously. This is a team with a lot of veterans, and a lot of stanley cup winners, and a team which will fight to the bitter end in order to get the win, and they're definately a team to look out for this season.
Anaheim's top six forwards are definately something to be afraid of. Their first line might be the best line in the league (Ryan Getzlaf/Corey Perry/Bobby Ryan), and to add to that, they now have what might prove to be one of the best sleeper lines behind that one. Saku Koivu might be the best second line center in the league. Playing behind a center like Getzlaf, with much less pressure than he had being the number one center and captain in Montreal, he'll certainly improve in the disappointing 50-point season he had last year. Not to mention that he'll be playing with his career-long friend and fellow countryman Teemu Selanny, who, if envigorated by the arrival of Koivu, could come close to scoring another 50 goals. Add Joffrey Lupul to that top 6, and some of the best grinders and tough guys in the league below them, and you might have the most balanced forward lines in the league.
And their defense isn't too shabby either. While they lost Chris Pronger and Francois Beauchemin, they gained two solid defensemen to play in their top 4 in Nick Boynton and Ryan Whitney, and Steve Eminger for their bottom pairing, not to mention Luca Sbisa, who came over in the Pronger trade. Plus, considering Beauchemin barely played at all last season, it's like they only really lost one defenseman and gained 4 good ones.
The only real question mark is in goal. Can Jonas Hiller play like he did last year? And what will they do with the league's most expensive back up goalie, J-S Giguere?
Regardless, Anaheim is certainly a team to look out for , and could certainly pull the rug right out from underneath San Jose and steal the division from them.
------------------------
NORTHWEST DIVISION: CALGARY FLAMES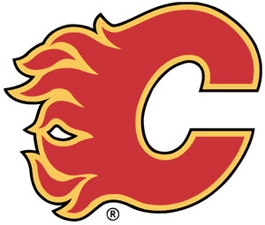 This might be the team that scares me the most. Sure, Vancouver is great, sure, Edmonton should bounce back from a few disappointing seasons, and Minnesota is always competitive, but has improved dramatically this past year, and most of the credit can be handed to a single player: Jay Bouwmeester.
While Calgary lost a lot a few top six forwards (the losses of Bertuzzi and Cammaleri will hurt them significantly), and no one is certain whether Olli Jokinen can mesh with the team in the long-term, if I was any other team, I'd be scared to face this team based solely on their defensive capabilities.
From the obviously capable Miikka Kiprusoff between the pipes, to the coaching style that will be implimented by Brent Sutter, to the grinders amongst Calgary's forwards, this team will be tough to play against. And I haven't even mentioned the scariest part:
Jay Bouwmeester - Robin Regher
Dion Phaneuf - Cory Sarich
Marc Giordano - Anton Strahlman
While the Northwest division will be as competitive as ever, the Flames defense is just too good not to pick them win it and head into the playoffs with home-ice advantage.
------------------------
CENTRAL DIVISION: CHICAGO BLACKHAWKS
A tough division to pick. The only team you can really eliminate from contention in the race to win the division is Nashville, and they're still pretty competitive year in and year out. St. Louis had a good year last year but they don't stand a shot at the division, either. Same with Columbus, although both teams are going to be good this year. So, it's down to Detroit and Chicago. And while Detroit is and always will be a powerhouse, I think it might be time for someone to dethrown them from the top of the Central Division, and Chicago looks like they might be in a position to do so.
While they didn't seem like much competition in the Western Conference Finals in last year's playoffs, the fact that they got there alone with the young team they had is very impressive. And they've only improved in the off-season. Having only lost back-up goalie Khabibulin, trade deadline acquisition Sammi Pauhlson, Matt Walker and Martin Havlat, they've added some even better names to replace them.
John Madden replaces Pauhlson as the shutdown center, and Madden's one of the best in the league at his job. Marian Hossa replaces Martin Havlat 10 times over. Add in the stanley cup winner, Tomas Kopecky, and you might have the most ridiculous offense in the league. Kane, Toews, Bolland, Versteeg, Ladd, Sharp, Byfuglien... these guys will only get better with the additions that Chicago has made.
Their defense is also pretty crazy, with Campbell coming off a 52 point season, Keith and Seabrook returnind as the top pairing, not to mention Cam Barker rounding out the top 4. Huet is a big question mark in goal, but the rest of the squad makes up for him.
The Hawks are going to have some bad salary cap troubles in the coming years, but I don't think that's going to stop them from being a powerhouse this coming season, and taking down Red Wings from the top of the central division, this coming season.
------------------------
EASTERN CONFERENCE
------------------------
NORTHEAST DIVISION: BOSTON BRUINS
As a habs fan, I don't really need a reason to dislike the Bruins. But the fact that they're really good certainly doesn't help. And the fact that, despite taking a step back this off-season and not meeting expectations in last year's playoffs, they're still really good doesn't help either. They're facing some tougher competition this year with Montreal having made big changes, Toronto getting tougher and Ottawa adding some depth (not to mention Buffalo, which remains a dark horse), but the Bruins are the top dog again this year.
They have a solid 1-2 punch up the middle, with one of the best centers in the league in Marc Savard, and a very talented young player in David Krejci. Patrice Bergeron is also amazing when he's healthy. They may not the most physical or imposing centers in the league, but that won't stop them from racking up a big amount of points this coming season.
Their strength on the wings might have gotten slightly worse with the departure of Phil Kessel for picks, but they're so deep that it doesn't matter. Ryder will score at least 30, no matter which center he's paired up with. Wheeler and Lucic can only improve on last year, and Marco Sturm, Mark Recchi, P.J. Axelsson and Chuck Kobasew will round out a very effective top 9 forwards.
As for defense, a top pairing of Chara-Wideman will always be scary. The addition of Derek Morris to the blueline may have struck some fans as useless, but he's a good #3-4 defenseman that will only help the bruins. Hunwick, Stuart and Ference round out a solid blueline.
They're just as solid in goal. Tim Thomas may or may not be able to reproduce his performance from last year, but they have Tukka Rask, who is closer to NHL-ready than he's ever been, waiting in the ranks, and Dany Sabourin as a serviceable back-up.
Boston might be the deepest, most well-rounded team in the league. They're almost a lock to win the Northeast, and after last year's disappointing 2nd round loss to the Hurricanes, they'll be looking for revenge!
--------------------------
SOUTHEAST DIVISION: CAROLINA HURRICANES
Looking at least year's stats, it's almost crazy to think that Ray Whitney led this team in scoring. To me, that's a sign of a team that works together towards their goal of winning, and winning as a team. Watching this team play last year, and looking at the players they added this summer, it's clear that both management and the players have set their organization standards very high, and that they're willing to do anything they have to in order to win. They may not be as deep as some of the other teams in the league, but they'll always be the perennial underdog.
Most people who will read this will probably think I'm crazy for choosing Carolina as my Southeast division ''favorites'', but as good as some of the players in Washington are, not only do they have more question marks in every position than Carolina does, but everyone is expecting Washington to take their division, and I think that will feed Carolina's hunger.
There's a big drop off from the talent Carolina has in its forwards to the talent on the blueline, and it seems like they have a lot of defensemen who could be ranked anywhere from 3rd to 7th on any other team's depth chart. While they may be a defenseman or two away from being considered ''scary'' on their blueline, there's nothing wrong with a crew featuring Pitkanen, Frank Kaberle, Gleason, Corvo, Wallin, Aaron Ward, Babchuk, and the newly arrived Andrew Alberts. Not a stellar blueline, but one full fo guys who can do the job.
Their forwards look a little better with Eric Staal, Matt Cullen, and Rod Brind'Amour as centers, and with the support of Ray Whitney, Tuomo Ruutu, Erik Cole, and hard working players such as Jussi Jokinen, tom Kostopoulos, Scott Walker, Chad LaRose and newly signed Stephane Yelle around them. Once again, not the most elite group of forwards in the league, but a solid group of hard working players nonetheless, and a group that has tasted victory and won't be satisfied until they get more.
Cam Ward rounds out this group of underrated players, making Carolina a team to certainly be afraid of, if you're a fan of any other team in the Southeast. An underrated team that will go un-noticed and finish with a great record and good chances in the playoffs when the season is done with in April.
---------------------------
ATLANTIC DIVISION: PITTSBURGH PENGUINS
I had a harder time picking the Atlantic division than one would think. Three teams where eliminated from the running here fairly quickly: The Islanders (for obvious reasons), the Rangers (I don't see anything special in their line-up past Lunqvist and Marc Staal, to be honest), and New Jersey (while they'll be strong this season, not storng enough for me to consider them as winners in the atlantic division over the 2 other teams).
While Pittsburgh seemed like an obvious choice, being stanley cup winners and icing some of the best players in the league, Philadelphia, in my opinion, is right there with them. One of the best collections of forwards in the league, a hard-nosed group of grinders and defensemen, and a fair amount of stars. The only thing that set them back is something that has plagued them for years, and that's uncertainty between the pipes. Can Ray Emery and Brian Boucher do better than Martin Biron and Antero Nittymaki? Only time will tell, but right now, what's certain, is that Pittbursh has a better squad than they do.
And you can't go wrong with the Stanley cup champs. Despite losing their top shut-down pair on defense, the Rob Scuderi and Hal Gill that helped them win a Stanley Cup, the rest of their line-up remains intact, and remains impressive. After all-stars such as Crosby, Malkin, Jordan Staal Gonchar and Fleury, a supporting cast mixed of young, talented players (Tyler Kennedy, Kris Letang, Goligoski, Max Talbot, etc) and savvy veterans and players in the primes of their careers (Bill Guerin, Chris Kunitz, Brooks Orpik, Jay McKee, etc), how can you not like this team's chances to repeat?
In the end, I think there's too much competition for this team to be able to repeat, but you never know. This team is obviously elite, and obviously scary, and will be a lot of fun to watch now that some of these players have won their cup.
--------------------------------
Well, there you have it, my predictions for the division winners this season. I will reveal the order I think they'll finish, as well as teams 4 through 15, in order, sometime later this week.
As always, comments and feedback is appreciated, and don't hesitate to post your own picks and predictions!
I'll be back tomorrow with a Habs block, as they gear up to face the Boston Bruins, in what I think is going to be the closest thing to a regular season game we'll see until october 1st!
Have a good day, and thanks for supporting the site!
Prax