Catching Up With Brian Boucher
Last Thursday, I spoke on the phone with former Philadelphia Flyers goalie Brian Boucher.
Boucher retired from hockey back in October when he was released from EV Zug, a team from the National League A in Switzerland after playing five games.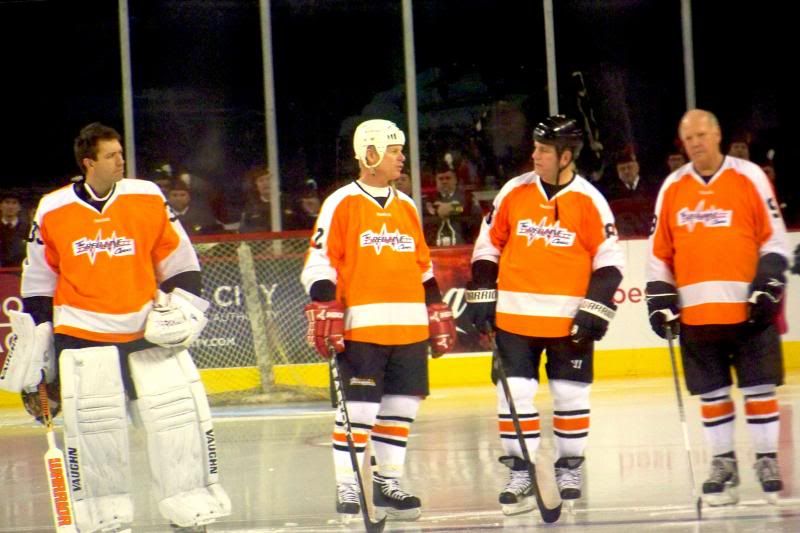 I called Boucher for a different story I was doing for the Press of Atlantic City. Along with a handful of Flyers and New Jersey Devils alumni, Boucher was playing in the Red Line Classic: Battle of the Boards at Atlantic City's Boardwalk Hall on Sunday. Team Orange, the team Boucher played on, beat Team White 8-7.
The teams were made up of former NHL players as well as firefighters from the Delaware Valley. I spoke with a few of the firefighters during the game and they were all loving the opportunity to play with guys they grew up watching.
Proceeds from the game went to two causes: The Barkann Family Healing Hearts Foundation, a charity for families in need during times of tragedy, and the All Hands Working Foundation, which seeks to better prepare firefighters to serve and protect.
The event gave me an opportunity to speak with these guys as well as chat with Boucher and Bob "The Hound" Kelly. Here is the discussion I had with Boucher on Thursday about the charity game and his time after retirement.
Q: Talk about how special of an event the Red Line Classic is with the importance of raising funds for the men who serve and protect us.
Brian Boucher: These guys put their lives on the line every day. And athletes, you know, we put our bodies on the line but we're compensated very well. We have the resources to help us out but for these guys that's not the case. Any little help that we can do as athletes, and I think it's a fun event to in a sense that we get to go out there and play hockey. And I'm sure for these guys to get out there and play a game they love playing and doing the same thing. We love hockey and getting a chance to play with these guys will be a lot of fun.
Q: How fun is it to get the opportunity to mingle with some long time Flyers fans and hockey fans in general?
BB: It's great. We have such a passionate fan base here in Philadelphia. I'm proud to say I was a Flyer, and I think the fans have always been great to me, and I'm very appreciative of that. Any time I get to meet them and be around them it's fun. Every time things like this come about and the fans get a chance to support something they're always there. I think that speaks to how much they love hockey here and how much they love the Flyers.
It should be a fun time. It's been a couple of months since I've been on the ice playing goal. I don't think it will be a result-oriented event so I'm just happy to get out there and do what I can.
Q: I was going to ask you about that. How has retirment been treating you?
BB: It's okay. I went to Switzerland to play and it didn't quite work out so I ended up coming back in October, but it's good. I get to spend a lot of time with my family and get to be at the kids' sporting events and I get to be at home full time so that's fun, you know.
But when you're a creature of habit and you're used to doing things you can get a little antsy so I think around this time of year I'm getting a little antsy because I'm used to doing things so that's a bit of an adjustment. But it's certainly nice to spend time with my family for sure.
Q: And you're doing a little bit of dabbling with broadcasting now. How's that been going for you?
BB: Scary! I got to do a (Penn State) game there and I'm going to be doing some Phantoms games with the (Olympic) break coming up with Service Electric up in Lehigh Valley and one with Comcast coming up so I'm excited about it. Obviously it's a different approach to the game, but it was fun. It was fun doing that college game and hopefully I wasn't too brutal at it.
It was really nerve-racking up there. I had to think on the spot and call what you see and hope you get all the names right. I think the college game is a little tough because you really don't know any of the players. But I think with the Phantoms games, I played with those guys so it should be a little but easier.
Q: With Atlantic City being about an hour away from Philadelphia had you had the opportunity to come to the city often during your playing time?
BB: Yea! My wife and I would go down there for dinner, and during the All-Star Breaks sometimes we go there and spend a night or two just to get away. We love Atlantic City and we like going down to the Jersey Shore in the summer time and enjoy that area. We love going down there, and I was saying to my wife the other day that we should make a night of it (this past weekend) because we've been so busy with my son's youth hockey traveling all over the place so we haven't had time.
Q: Have you had a chance to be inside Boardwalk Hall? Because I have people tell me all the time how taken back they are of the structure inside.
BB: Yea I have. Last year with the Phantoms we played a game there. I didn't play in the game but we played against the Albany Devils, and what a great facility. First of all the locker room is unbelievable for an American League visiting room - the Devils were the home team. We had the visiting room and it was great. It was spacious and the inside of the building was so cool. It made me think how awesome it would be to play for a team there, especially a minor league team.
I wonder if they would be able to make it profitable enough. But what a cool building, and it's in a great spot. You walk right on the boardwalk from the hotel and get right to the rink which is pretty cool, so I look forward to getting back out there and being in that building for sure.
Q: We did have pro hockey here too in the early 2000's. For four years we had the Boardwalk Bullies in the ECHL, and a lot of fans in the area still do hope for hockey to come back. I grew up a big hockey fan obviously because of it, and watched you play... What do you think an event like this would do for wanting to get hockey back in this area?
BB: I think the whole Philadelphia area, and Atlantic City I try to include the South Jersey and Atlantic City area, there's a lot of hockey fans here. It's been generations and I know they had an East Coast team there, and I think the real thing is it all boils down to money at the end of the day. I think for people to have money for franchises there it has to be profitable for them, and if it can be then it works. For the players, it would be a great spot for them.
There's plenty to do, and aside from the city the winter months right now it really is a fun place to be down there in the fall and spring. I think it's a great spot and hopefully it works out and hopefully events like this spark the people's interest in the area to want to push for another franchise there, whether it be ECHL or American League, who knows. It would be pretty cool.
And you know there would be less travel too for these minor league teams. It would be very helpful. Say there's an American League team there and the Phantoms will be up in Allentown next year, you've got Scranton, you've got Hershey. You end up playing in Philly close by and it's nice for the players too. Players don't like to be bussing six hours between cities so any time there are teams close by it's a win-win situation so hopefully it works out that way.
------
John Russo
Editor; Featured Writer
Twitter: @Roose_TCL; @TCLFlyers
Email: russo@thecheckingline.com