Flyers Making Due With "Patchwork Defense"
PHILADELPHIA -- "Patchwork" may not be the nicest word to use to describe Philadelphia's defensive situation right now, but it is the most appropriate.
After last night's 4-2 win at home over division rival New York, Flyers head coach Peter Laviolette was asked a question that was worded in a way which Laviolette had to point out.
"They probably wouldn't like to be called that, if I was guessing," Laviolette said when asked about his patchwork defense, drawing some laughs from the reporters after the game.
He was quick to follow with praise for some of the guys stepping in at the most desperate of times.
"I think that they have been excellent," Laviolette added. "Oliver [Lauridsen] has come up and done a really nice job. Kurtis [Foster] jumps back in the lineup and taking on some minutes. Mandog? [Brandon Manning] comes up and gets back in the swing of things. He looked great out there tonight."
Those three, along with Erik Gustafsson, Kimmo TImonen and Luke Schenn made up the Flyers blue line last night. Though he was pleased with the job done by the former three, the work put in by the latter three has been something Laviolette expects right now.
"Kimmo, you can't say enough about him. Luke Schenn hauled probably close to 60 minutes in the past two games so they were real strong," Laviolette, who has also given Gustafsson praise for the past month, added.
The Flyers have lost four, potentially five, defensemen for the remainder of the season. Braydon Coburn and Andrej Meszaros had season-ending shoulder injuries, Nick Grossmann and Kent Huskins are battling concussions and Bruno Gervais saw his season end yesterday when it was announced he will have surgery on a torn stomach muscle.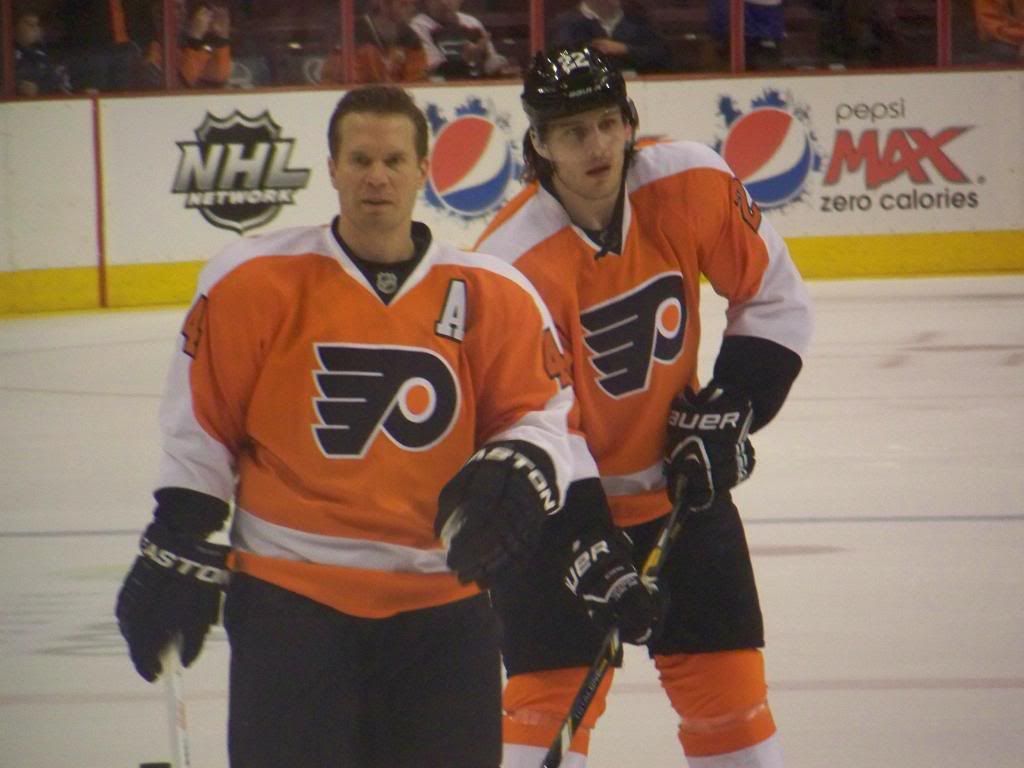 This all doesn't include the fact they were without Chris Pronger all season, whose career is likely over due to post-concussion symptoms.
"We miss those guys, but I'm telling you guys all year long that there is going to be injuries," Timonen said "Guys who have come from the minors have been stepping up. It's a team sport. Good teams win with a lot of injuries. These guys have been playing pretty well, overall good team effort."
Huskins' injury is the most recent. He left Monday's game with a concussion after Montreal's Ryan White delivered a dirty hit up high, connecting with the shoulder. His season is likely over with there being five games left, barring a playoff run.
"That's just part of hockey. Teams go through injuries, especially this late in the season guys go down," said goalie Steve Mason, who made 38 saves in Tuesday's win. "Unfortunately we lost Huskins [Monday] night to a dirty hit and hopefully he's getting better. But as hockey players in the AHL, it's their job to come and step in, and tonight they did that."
Schenn has been the biggest treat this season. He has been one of the most-watched players this season due to being acquired for James van Riemsdyk in the offseason.
The past few weeks for Schenn have been an indication of what the Flyers can expect from him. He's logged big minutes and has assumed the role of "horse" after Coburn went down.
In the last two games, Schenn logged an astounding 33:25 of ice time in a 7-3 win over Montreal on Monday. He then turned around the next day to play 24:39, the second most behind Timonen, against the Rangers.
In the last 13 games, Schenn hasn't logged fewer than 21:17 of ice time, and eclipsed 24:54 seven times in that span.
As for the "patchwork" players, a lot can be said about the play of Lauridsen so far. Boasting a 6'6", 220-pound frame, the Great Dane is a physical player, something the Flyers defense has lacked since the loss of Pronger.
He led the Flyers with six hits in 19:59 of ice time during yesterday's game, giving him 22 on the season.
In 10 games Lauridsen has one assist, blocked 12 shots and is a minus-1. He's also taken 19 penalty minutes (seven minors and one fight), an indication that he has no problem getting involved in the play.
Foster has been in and out of the Flyers lineup all season. Providing another big physical presence, Foster is on the slower side and it's hurt him this year.
Foster isn't the best skater either, and it resulted in him sharing the lowest minutes among defensemen with Manning, who was playing in just his fifth NHL game last night.
Manning was called up yesterday and jumped right into the Flyers lineup. He set-up Brayden Schenn with the game's first goal, notching his first career NHL point.
---
Follow John Russo (@Roose_TCL) and the site (@TCLFlyers) on Twitter