Game 22 : Habs vs Kings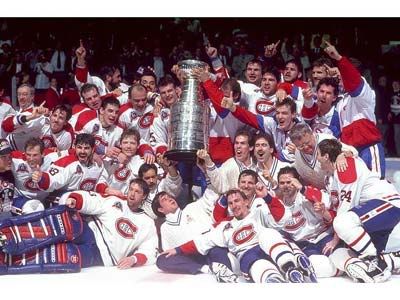 Whenever I see this team rolling into town, or even when we are in LA, the first thing that comes to mind for me is, 1993. I remember watching the game at home with my parents. At the time, it was something I didn't truly understand. I was in the 2nd grade and I'm a girl. So at that age, it wasn't the same as now, however, I'm proud to say that I did witness the Habs beating Wayne Gretzky and his LA Kings to win their 24th Stanley Cup.
Tonight marks the first time we play LA this season, and the last. After losing 4 of the last 5 games, LA heads into Montreal with a 13-7-0 record. Very similar to the Habs at 13-7-1. Both teams flew out of the gate quickly this season, and both teams are proud owners of two of the top goaltenders to far this season. Thing is, tonight we will not see the showdown between Quick and Price that I desperately wanted to see. Instead we get another sort of showdown. World Junior Team Canada Champions face off in nets. Johnathon Bernier and Carey Price. Too make matters more interesting Bernier is not only one of the more anticipated rookies this year, but he's also from Laval. And we all know what Quebec born goalies tend to do when they play in Montreal.
Justin Williams is red hot for the Kings this season. Coming into tonights game he leads the team in points (9-12-21). I can't see this lasting all season though. I won't discredit the guy, but the chances of him playing 82 games this year are slim. He's known for injuries having played less than 49 games max in his last 4 seasons.
On the Habs side of things, Jeff Halpern continues to find success with his Montreal squad. With 13 points on the season, he looks to blow away his 19 points total from last season. If you compare him to his counter-part Dominic Moore, so far I can say we made a good move. Signing Halpern for less and getting more production out of him. A great replacement for Metropolit. I'd honestly like to see some PP time from this guy. What do we have to lose? I'm hoping, with Darche playing, that JM reunites the 3rd line of Halpern, Darche, and Pouliot. To be completely honest, I have no idea why that was split up. They seemed to have great chemistry a week back and won a handful of games for us.
Habs are, as always, without Markov tonight. While the Kings play without Willie Mitchell (no surprise here) and Alex Ponikarovsky.
I expect to see the Habs respond from the final two periods in Philly. At least they better. It's a rare treat to see the Habs and Kings, and I'm sure it brings back memories to many many Habs fans. @_Jaybomb will be at the game tonight, so I'm hoping for a repeat of 1993 for him, minus the riots afterwards.
Puck drops at 7:30pm and is being aired on RDS.
Cheers!
-Kathryn Pateridis
ALSO READ:
- Habs Outclassed by Resilient Flyers by George Prax.
- Habs Panel Week 2 with George Prax, Iain Carnegie, Kamal Panesar and Kevin Van Steendelaar.
- Liveblog details for tonight, including Q&A portion of Habs Panel!
- Open Thread for Habs Panel questions/suggestions in our forums.