Game 9 : Habs vs Isles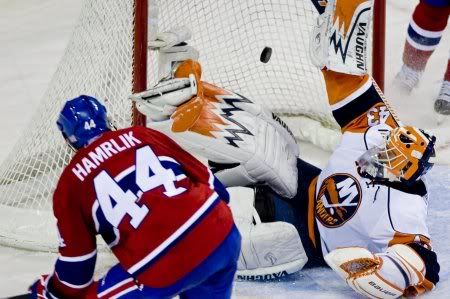 Photo Credit: Reuters
The Isles roll into the Bell Center tonight, for the first of two meetings between these two clubs in three days. The Isles are off to a surprisingly quick start (4-2-2) despite the amount of injuries they had coming into the season. The Habs are sitting pretty at the top of the Eastern Conference(5-2-1) along with Pittsburgh, Tampa Bay, and to everyone's surprise, the Toronto Maple Leafs. Tonight's match up will be a bit of a test for the Habs. Avoiding the Islanders power play is a must, and the Habs really need to find a fit on the 2nd line to compliment Gomez and Gionta. We'll be in big trouble if we depends on Cammaller, Pleks, Ak46 for all our offence tonight.
John Tavares is hot hot hot for the Isles. with 5 goals in 4 games, as well as Parenteau who's been dynamite on the power play. (7PP points) The Habs' Andrei Kostitsyn is keeping the streak alive, adding a game winning goal in overtime on Monday night against the Coyotes. In fact, the entire 1st line is looking pretty amazing out there. Combining for more than 50% of the Habs goals this season.
Kyle Okposo, Rob Shremp and Mark Streit are all still sitting on the Islanders IR list. Josh Bailey will be a game time decision. Andrei Markov still isn't ready for return tonight, however things are looking better and better for this coming Saturday. Like Prax said earlier this week on Twitter, it's something worth soiling your pants over : )
Carey Price gets the green light once again, starting his 9th straight game of the season. This ties his career high for consecutive starts. Rick "IR" Dipietro should get the call between the pipes for the Islanders.
Game starts at 7:30pm and is being aired on RDS-HD and TSN-HD.
P.S Heading to the game tonight!!! 2nd game this week!
Cheers!
-Kathryn Pateridis