Guest Blog: Worst NHL Jerseys
The following is a blog by guest writer Brian Raiger:
In the world of sports, teams need a clear identity. This identity comes through many things, but the one thing that people know them by is their logo, uniform, and colors. While some teams have strong identities and logos, others don't. These teams become laughed at based on their uniform and ridiculed by fans everywhere. My presentation focuses on my personal Top 10 Ugliest Jerseys in The NHL. I could have dug way back into the archives and found hideous jerseys from the 1920's, but I kept it more modern going from the late 1970's up to now.
First off, I have some "Dishonourable Mentions".
Nashville Predators (2001-2007)
I don't know where to start on this jersey, the vomit yellow, square neck, or 3D sabre tooth head. It took them 6 years of losing money to realize nobody was buying that jersey and they eventually ditched it.
Dallas Stars (2003-2006)
The Stars tried introducing red into their color scheme, and making a consolation look tough. Needless to say, it failed and thankfully those stars faded after 3 years. Did I mention it looks like a female reproductive system?
Tampa Bay Lightning (2008-present)
The Lightning thought they could be cool by shortening their name, and not from Tampa Bay to Tampa, but from Lightning to Bolts. I think it is useless to shorten the name, and also that with Tampa Bay's jersey change this year, it's only a matter of time before the Bolts burn out.
Ottawa Senators (2008-2011)
Ottawa, like Tampa Bay, decided to shorten their name to the Sens. Thankfully, they retired the Sens jersey and brought back the old school Senators heritage jersey.
Calgary Flames (1998-2006)
This jersey's main logo should have stayed as a shoulder patch. The jersey itself has been switched many times, from alternate, to road, back to alternate. After all the switching around, Calgary decided to put the Hell Horse to sleep, and for good reasons.
Phoenix Coyotes (2008-present)
The Coyotes regular logo is a fierce coyote howling. So the team defiantly took one step back with this ugly thing. It looks like a gentile fox leaping in the meadows, far from an intimidating jersey. The Yotes need to ditch it as soon as possible.
My actual list consists of ten jerseys that I find horrendous in many ways. Many reasons are the same as fans, players, and management, but some have my own twist or version. Starting at Number 10 working my way to Number 1, here they are!
TOP 10 WORST NHL JERSEYS
10. 1995-1996 Los Angeles Kings Alternate
It looks like a motorcycle drove over this jersey with the one stripe in it. The introduction of purple ruined the black and silver meanness that the team had, and the king head resembled the Burger King character way too much. This jersey looks like it was done by a 14 year old for an art project. It is embarrassing that Wayne Gretzky had to wear it.
9. 2006-2010 Buffalo Sabres Home & Away
The Buffaslug (as people called it) appealed to nobody at all, yet it stuck around for 4 years. Fans both at home and on the road continuously made fun of the logo, and the jersey itself looked like it belonged in the minor leagues. There were only two good things that came from those 4 years – the Winter Classic (wearing the original Sabres jersey), and the team bringing back the original blue and gold colors. Aside from that, those 4 years dragged on, just like a slug.
8. 1995-1997 New York Islanders Home & Away
Apparently winning consecutive 4 Stanley Cups (1980-1984), and claiming a few more divisional and conference championships was not enough for the Islanders management to keep the classic NY look. Only 11 years after their last cup victory, someone must have had been angry and drew themselves. They ruined the classic look from orange, white, and blue, and made it a dark/navy blue, teal, orange, and white. The jersey itself had a "wave" effect, while the font and numbering flowed with those waves. The logo itself was an angry fisherman in front of a hockey net – mainly teal and dark blue. Thankfully the logo went overboard in '97, while the jersey design got canned a year later in 1998.
7. 1995-2006 Boston Bruins Alternate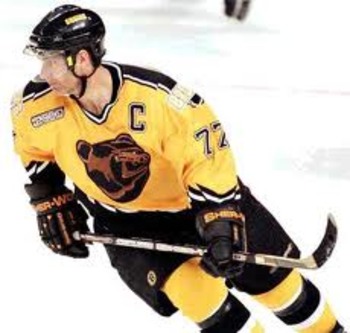 There is an unwritten code in hockey: do not touch or majorly alter an Original 6 jersey. Boston decided to ignore that rule and in 1995, made the decision to go with a bright yellow jersey with a brown bear head. The brown, black, and yellow was gross enough, but the buzz saw striping was the finisher on ruining a classic team's look. It is shame that a legend in Ray Bourque had to wear that ugly thing.
6. 2000 World All-Stars jersey
Since it was a North America vs. The World All-Star game, why not give the World team a European influence? This influence was a polo collar on a hockey jersey. Fans were laughing at this design and I don't blame them. Thankfully at the next all-star game, players such as Mats Sundin, Jaromir Jagr, and Nicklas Lidstrom didn't have to worry about the collar.
5. 1998-2003 Phoenix Coyotes Alternate
So many things are wrong with this jersey. The floating head over the landscape would be number one. They kept the Kachina-style theme throughout the whole jersey. A weird logo they added to the jersey was the new shoulder patch. It was supposed to be an overhead view of a coyote, but it looks like a flattened salamander. Thankfully the Coyotes decided to tweak their image (to their current logo), but they should be north of the boarder playing in Hamilton.
4. 1978-1986 Vancouver Canucks Home & Away
First off, I am a die-hard Canucks fan, but those flying V jerseys are ugly. They went away from their traditional blue and green colors and began the black, red, yellow era. The jersey had the main logo on the sleeves, but no logo on the front, instead, a big V. This was supposed to be a tribute to the former Vancouver Millionaires, but instead looked like a graduation gown. Another mistake about these uniforms was that the home jersey was not the traditional white; instead they decided to go with a bright yellow. Thankfully in 1986/1987, they put the main logo on the front of the jersey and ended the big V monstrosity.
3. 1996-1999 Tampa Bay Lightning Alternate
Where to start on these jerseys? There is just so much happening on it, it's hard to pick one spot. The front of the jersey was ruined by adding "rain drops" to it. The shoulders were extended to about a third of the way down the arm and at the end of them; yellow lightning bolts ran to the end of the sleeve. The yellow was a random color and didn't flow at all. To make things worse, the striping at the bottom of the jersey was in a wave pattern. The jersey always looked lop-sided. If you didn't have motion sickness yet, you may have noticed the numbering. They were given a "static shock" look, and just made you want to look away. Thankfully people said lights out to these jerseys after three seasons.
2. 1995-1996 Mighty Ducks of Anaheim Alternate
This is what happens when Disney owns a hockey team. The Ducks were not taken seriously at all wearing those jerseys. The cartoonish font on the back was one giveaway that this is an ugly jersey, but once you saw the front, you died laughing. Thankfully management listened to both the players and fans and took went duck hunting with these jerseys. It is bad enough that Teemu Selanne looks like the Wild Wing character (on the jersey) when he celebrates.
1. 1995-1996 St Louis Blue Alternate
Thank you Mike Keenan! This was the proposed jersey that marketing, public relations, and management approved of. The only person that stopped it from being worn was the head coach (Mike Keenan). One can only imagine what it would have been like to see Wayne Gretzky, Al MacInnis, Grant Fuhr, and Chris Pronger in those ugly things. The one thing that I personally believe that sold this jersey to management and everyone was the idea that there would have been a mascot too. It was a perfect idea for management; gain an ugly jersey and a mascot. Like I said before, thank you Mike Keenan for standing your ground and not allowing your players to wear such filth.
With many events happening this year, one can only expect some teams to release new jerseys. One leaked image I found was from this summer, when the New York Islanders decided to come up with a jersey to commemorate their 40th anniversary in the NHL. The image I found was horrendous. You would think that adding new colors to their scheme was a bad idea (after the Fisherman logo experiment), but only time will tell if this jersey will actually get released.
Overall, I believe that teams try to come up with ideas that will benefit them, and give their fans something to be proud of. Some of these ideas work well, while others fall flat on their face. This is just my opinion on the top 10 ugliest jerseys in the NHL. What are some of yours?
Brian Raiger