Capitals fire Bruce Boudreau; hire ex-Cap Dale Hunter
After a hot 7-0 start to the season, the Washington Capitals and their sky-high expectations were off and running.
Then the rest of the league caught up, sending the Capitals into tailspin searching for answers, a tailspin that included a 5-7-1 November record, with just one game left on Tuesday.
The scapegoat of the tailspin is coach Bruce Boudreau, who was relived of his coaching duties early Monday. Former Caps captain Dale Hunter has been named head coach, he was present at practice on Monday afternoon.
Boudreau will be a tough act to follow, however, as he led the Caps to the playoffs in each of his four full seasons, winning the Southeast Division every season. He also helped the team capture the President's Trophy in '09-10 and was the fastest head coach to 200 wins in a career, breaking Don Cherry's old mark. But Boudreau's team never advanced past the conference semifinals in any year, despite heavy expectations.
"I was always hoping that one day Dale could coach this team. But timing's everything, and the time is right now," said Caps GM George McPhee on Monday.
Enter Hunter, 51, who played for the team for 12 seasons in the late '80's and '90's, serving as team captain. He has coaching experience in the OHL with the London Knights over the past decade, winning the Memorial Cup in '04-05.
During his time as Knights coach, the team won 50 or more games three times and finished first in the OHL four times. He's worked with current NHL players Rick Nash, Corey Perry, John Tavares, Patrick Kane and Caps defenseman John Carlson.
He scored more than 1000 points in his long NHL career and should command respect of his players, something that was long at question with Boudreau, who did played in the NHL sparingly despite a solid minor league career.
Said to be a demanding coach with a disciplinary style, Caps GM George McPhee hopes Hunter will be able to straighten out an undisciplined squad that has underachieved.
"The intensity and the feeling of being a team, he's got all that in his back pocket," said former teammate Rod Langway of Hunter on Monday.
Among the mysteries he'll have to solve will be the Caps' disappearing offensive attack, which scored more than three goals just once in November. He'll also have to solve the teams lackluster special teams play, with a powerplay clicking at just 16.6 PP%, good for 16th in the league, and an penalty kill at 80%, just 22nd in the league.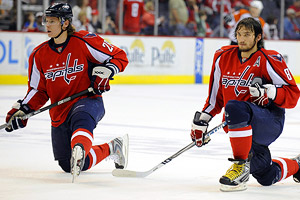 Hunter will also have to sure up Washington's defense, which has been a question mark for years, and is giving up 3.27 goals per game, second worst only to Ottawa in the league this season.
Complicating the myriad of problems in D.C. is the under performance of team captain Alexander Ovechkin and fellow Russian sniper Alexander Semin this season. Ovechkin, a four-time 50+ goal scorer, has just 8 goals in 22 games this season along with a -7 rating for a career +81 plus/minus player.
Despite calls for Ovechkin to be stripped of his "C," Caps GM George McPhee said Monday that was not going to happen.
Semin has been even worse, notching just 5 goals and 5 helpers to go along with 32 PIMS and a -3 rating. Even star pivot Nicklas Backstrom, despite a team-high 25 points, has posted a -6 rating.
Making matters worse is the absence of star defenseman Mike Green, who has played in just 8 games due to various injuries. Green has three goals and three assists on the season. Good news could be coming on that front for the Caps new coach as Green skated all weekend and could play on Tuesday.
Hunter's first game in an unfamiliar place for the Capitals, behind the bench, will come Tuesday when the Caps close out a rough November with a visit from the red-hot St. Louis Blues.
*************************
For Capitals updates, follow me on Twitter @Duce_90