Sharks bite Caps 5-3, paging Green and Backstrom
Yes, the Washington Capitals lost a hockey game tonight. And yes, they did lose a hockey game 5-3, to a good team who is clearly far superior in the San Jose Sharks. And yes, they were playing the second of back-to-back games after playing in New York on Sunday, but so were the Sharks.
The Caps fell behind 3-0 and then 5-1 before late goals from defenseman Roman Hamrlik and the oft-scratched Jeff Shultz gave the Caps hope at a miracle at 5-3 with six minutes remaining.
Washington peppered Sharks goalie Thomas Greiss with 42 shots, but the German keeper stopped 39 shots to outduel Brayden Holtby in net for the Caps, who gave up the games first goal on a red line blast from Sharks defenseman Dan Boyle. The shot in on Holtby hit Joe Pavelski in front to put the Sharks ahead early on a bizarre goal.
The late garbage goals from Shultz and Hamrlik, who have both struggled this season coated the fact the Caps were dominated by the Sharks, something that is all to familiar as San Jose has won 16 of the past 17 meetings between the two clubs, who rarely play as cross-conference foes.
What was also evident on Monday night was that the Capitals dearly miss No. 1 center Nicklas Backstrom and No. 1 defenseman Mike Green. The Caps top four players are the above mentioned and captain Alex Ovechkin and Alex Semin. Without his center, Ovechkin receives double the attention from defenseman. Without Green, a powerplay QB specialist, teams can key on Ovechkin and force him to let others make plays on the powerplay. They haven't on a consistent basis like Backstrom and Green do.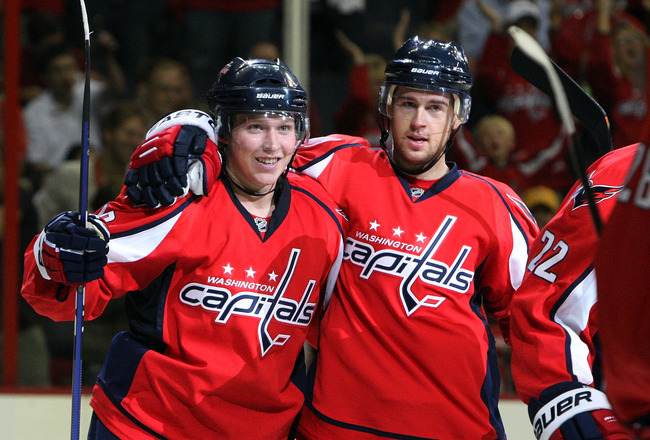 Boy have the Caps missed these two guys this season and lately.
To a lesser extent, Ovechkin plays most of his games largely without Semin too. The enigmatic Russian sniper plays when he wants and his effort varies from shift to shift. This is evident by his paltry numbers this season (15 G, 39 Points). Semin is just two years removed from a 40-goal season, and three from a 30-goal season.
Sure, Ovechkin has gotten some unexpected help from defenseman Dennis Wideman, who is having a career-year with 10 goals, 28 helpers and 38 points. His presence has helped the Caps powerplay from completely going overboard during the absence of both Green and Backstrom.
He's also gotten help from role players like Jason Chimera, who is approaching a career-high in goals. But the jump in production that is necessary when star players miss time hasn't happened as the Caps have hoped. Veteran Mike Knuble, who boasts 8-straight 20-goal seasons, has only three goals and 11 points in 53 games this season just a year after posting 24 goals for the club.
Brooks Laich, who signed a 6-year extension this summer that carries a $4.5 million cap hit, has just 10 goals. He is two years removed from back-to-back 20-goal seasons. Viewed as the team's second-line center, Laich hasn't lived up to expectations this season.
The list goes on and on, from veterans like Knuble, Laich, Roman Hamrlik and Semin to some of the young guys like Marcus Johansson, who hasn't exactly excelled in his time among the top-six. The 22-year-old has 11 goals and 19 assists in 53 games this season.
Could some of the dip in scoring, the Caps average 2.76 goals per game (12th in NHL), be attributed to the defensive system implemented by new coach Dale Hunter? Possibly, but the Caps also allowed 2.76 goals against per game, 15th in the league. The powerplay isn't awful at 12th, but it isn't the top-ten/top-five powerplay that Caps fans enjoyed in the past few seasons. The Caps' 22nd ranked penalty kill could help provide some answers, where they've missed Backstrom dearly on the first unit.
This could all be a moot point if Backstrom (just now skating for five minutes at a time) and Green (Later this month), return from injury to help the team into the playoffs. But if they don't come back, and the current team doesn't step up and play better in their respective places, the Caps will go from Cup contender to NHL Draft Lottery.
That's a big jump, but that's the difference All-Stars like Nicklas Backstrom and Mike Green make. When you lose two of your best three players, there is a drop-off, once that the Washington Capitals are currently experiencing in 2011-2012.
As they currently sit in 9th-place in the conference, but one point out of playoff contention, that possibility of being on the outside looking in is looking more and more likely.