Canadiens Acquire Dominic Moore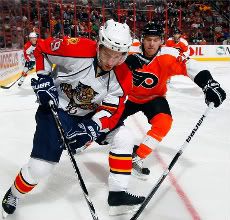 TSN is reporting that the Montreal Canadiens have acquired Dominic Moore from the Florida Panthers in exchange for a 2nd Round Pick in the 2011 Draft.
Dominic Moore has been somewhat of a journeyman in the NHL. A native of Thornhill, Ontario which is just minutes north of Toronto, Dominic Moore will be joining his seventh NHL team since debuting in the NHL only five seasons ago. After being drafted in 2000 by the New York Rangers, Moore was traded to the Pittsburgh Penguins in a three team trade involving the Nashville Predators. But less than a year later, the Penguins traded Moore to the Minnesota Wild for a 3rd Round Pick.
Moore had been far less than impressive up until this point in his NHL career and as a result, in January of 2008 the Wild placed him on waivers, where he was picked up by the Maple Leafs. With the Leafs all out of other options, Moore was given a bigger role on the team than he received with his previous teams. Moore became a pretty good playmaker for the Leafs and put up a respectable 41 points in 63 games with the Leafs during the 2008-2009 season. But Moore was scheduled to become an unrestricted free agent in July 2009 and with the two sides no where close to an agreement on a new contract, the Leafs traded Moore at the 2009 trade deadline to the Buffalo Sabres for a 2nd Round Pick.
Moore was less than impressive in his 18 games for the Sabres. In the offseason Moore signed with the Florida Panthers. He again was given a larger role than he would have received on most teams. He has managed to put up 17 points so far this season, which is better than most of the other seasons in his career, but it is no where near the production he had in Toronto.
Hopefully in Montreal Moore will be able to regain his playmaking touch and help the Canadiens up front, especially with the injuries to Andrei Kostitsyn, Cammalleri and now Benoit Pouliot.