DEVILCHUK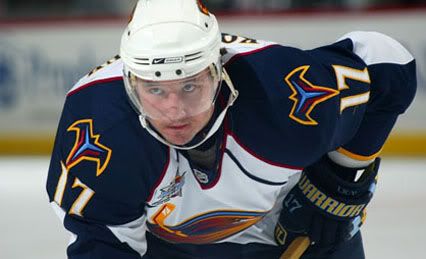 Darren Dreger from TSN via Kevin Allen of USA Today as well as a few other media outlets are reporting that the Atlanta Thrashers have traded Ilya Kovalchuk to the New Jersey Devils.
Details of the trade are still not known and the trade itself is still not confirmed. Dreger even reporting that Kovalchuk himself has not been notified of the trade.
More to come...
7:44pm Update: It is being reported that the going to the Thrashers are 3 players and a 1st round pick
7:50pm Update: The Fourth Period reporting that the Thrashers will receive Oduya, Bergfors, Tedenby and a 1st round pick
7:56pm Update: There seems to be conflicting reports regarding the prospect. Some saying Tedenby others saying Cormier.
On a side note, Ilya Kovalchuk playing under Jacques Lemaire seems like an interesting combination and not in a good way. Personally I did not see this coming as Lou Lamoriello doesn't usually make deals like this.
8:03pm Update: Elliotte Friedman reporting that the prospect is Palmieri, not Cormier or Tedenby
8:08pm Update: RDS reporting Tedenby now, seems like we could be going in circles for a while here.
8:08pm Update: Kevin Allen of USA Today who first broke the rumour is saying Cormier is the prospect.
8:16pm Update: Bob Mackenzie now confirming Kevin Allen's report that it is in fact Cormier. There you have it, Ilya Kovalchuk traded from the Atlanta Thrashers for Niclas Bergfors, Johnny Oduya, Patrice Cormier and a 1st Round Pick.
8:40pm Update: Poll added.
--------------------------------------
Earlier Kovalchuk Posts:
- Ilya Kovalchuk Trade Watch - George Prax
- Are the Isles Persuing Kovalchuk? - Rob McGowan
- New York Rangers Drop Out of Kovalchuk Sweeps - Michael A. Aldred
- Kovalchuk Turns Down 101m - Michael A. Aldred
Check back here for all the latest!