09/10 Fantasy Hockey Forwards: Guide & Analysis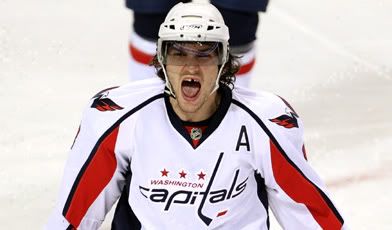 This is a helpful guide (hopefully) for fantasy hockey owners regarding 2009-2010 Fantasy Hockey Forwards, including which players I think are being drafted too early, which ones are being drafted too late, and which ones you can steal late in your draft. I will also give you my Top 50 ranking.
First things first, if you have the 1st overall pick, don't be an idiot, take Ovechkin, the guy is a goal scoring machine and the fact that he's a left-winger makes him the best fantasy hockey player to own in history. As for #2 and #3, trends show that Malkin is being taken 2nd overall with Crosby going 3rd and these are pretty much the only picks that are set in stone. One thing to remember is always take the goal scorers first, the assists can be made up in later rounds.
Forwards Being Taken Too Early
We see it every year at our fantasy hockey drafts, people reaching for picks. Sometimes we are that guy and so I'm going to take a look at some players that are being drafted on average too early, which will hopefully in the long run help you win your pool.
Corey Perry – His yahoo ADP (Average Draft Position) is 6.9. That is ridiculously high in my opinion. I understand that the right-wing position is not deep, and I understand he is an all around player, but he scored 72 points last season, which is very good, but it's not nearly good enough for the first round. If you're drafting for PIMs, ask yourself why you are caring about the PIM category in the first round of your draft. He is still young and only has three and a half years of NHL experience, which means he still has the potential to do much more. But the first round is not for potential. Do not take Corey Perry in the first round of your draft, you're setting yourself up for a bad season if you do. Let someone else take him, while you reap the benefits of the players that are left. (Players usually still left on the board at this point include Getzlaf, Datsyuk, Kovalchuk, Heatley, Lecavalier, and Thornton)
Marian Gaborik – His yahoo ADP IS 20.7 and I'm looking at it and scratching my head. I guess fantasy owners are gluttons for punishment or they think that New York is a groin healing city. When healthy, Gaborik is definitely worth this draft position. But, as we all know too well, more often than not, Gaborik is renting space on the IR. Playing a total of 207 games over the last four seasons is definitely not encouraging. For all of you too lazy to do the math, Gaborik has missed a grand total of 121 NHL games in the last four seasons. If that won't make you spend your picks more wisely, I'm not sure what will. (Players usually still left on the board at this point include Lecavalier, Backstrom, Heatley, Thornton, and Kane)
Jonathan Toews – I love this kid, he's one of my favourites on the ice, but at an ADP of 38.7 for at best a point per game player, he should not be a 3rd round selection. If he was a winger I would say go for it, but he's a center, and there are plenty of centers to go around in the later parts of your draft. In fact I'll tell you which center you can get at an ADP of 81 later on in this blog that will give you pretty much what you will get from Toews. (Players usually still left on the board at this point include Spezza, Cammalleri, Marleau, Setoguchi, Alfredsson, and Ryan)
Forwards Being Drafted Too Late
Daniel Alfredsson – I remember a couple of years ago Alfredsson was being selected in the first two rounds of the draft. This year, his ADP has dropped to 63.2. The Senators have had a rough last couple of seasons and Alffie still managed to put up 74 points last season, which was the lowest point total for him in the last six seasons. Interesting fact about Alfredsson; he's had a plus-rating in every single season of his career except his rookie season. That is quite an accomplishment, and something to keep in mind as an owner. He's still on the first line; I project that both he and Spezza will bounce back this season and both will have 80 points seasons, bank on it. Don't let Alfredsson fall past the fourth round if you're in a league of ten or more… right-wingers are scarce.
Olli Jokinen – The number one center for the Flames has an ADP of 74.1. Yes he had bad season last year, but part of that had to do with the fact that he played half of the season in Phoenix. He's also a detriment to your +/- category, but that might improve now that he's finally playing for a contender. However, Jokinen will be a point machine in Calgary this season, and the middle of the seventh round is no place for this Swedish Star. Come to think of it, looking at the three players being drafted way too late, it seems fantasy owners have no love for the Swedes. I project an 80 point season for Jokinen, don't let him go past the sixth round of your draft.
Henrik Sedin – Alright here's the player I mentioned earlier. With an ADP of 81.0, Henrik Sedin is an absolute STEAL. A consistent point per game center this low is just absolutely ridiculous. Forget wasting a pick on Toews in the 3rd round of your draft and snatch this guy up a few rounds later.
Value Picks
Here are some players and their very late ADPs. Some of these players have seen their ADPs fall because they had injuries last season and so yahoo ranked them lower due to lower stats. As a result owners forget about them until they see them come off the board and they're slamming their heads into their keyboard. Other players have found themselves in better situations this season and will likely see their offensive production go up. Taking these picks earlier than their ADP is something I highly recommend. Not too early though, but early enough that someone else in your league is not getting the steal instead of you. Value picks are what separate teams in the standings. Anyone can look at the top rankings and pick the best players, but it's getting solid late picks that will help you win your pool.
133 – Ales Hemsky, almost a point per game winger, a very good late choice at a scarce position
138.8 – Brenden Morrow, a complete fantasy player. Everything you wanted from Corey Perry can be found here, in the late stages of your draft.
143.5 – Daniel Briere, almost a point per game center, Briere is a steal this late
144 – Brian Gionta, the Canadiens are a more offensive team than the Devils, look for Gionta's totals to go up
153 – Andy McDonald, was a point per game player with the Blues last season while he was healthy
154.4 – Derek Brassard, Should see top line minutes in Columbus alongside Rick Nash
159 – Nik Antropov, the first line in Atlanta is a lot different than Toronto. He will be playing with Kovalchuk and that's all that really needs to be said.
159 – Bryan Little, Again, first line in Atlanta
My Top Ten Sleeper Picks for 2009-2010
Everyone loves sleeper picks, so here they are:
1. Josh Bailey
2. Matt Duchene
3. James van Riemsdyk
4. Jakub Voracek
5. Ville Leino
6. Peter Mueller
7. Claude Giroux
8. Nick Foligno
9. Mikkel Boedker
10. Viktor Stalberg
MY TOP 50
And Finally, here are my Top 50 Forward Rankings:
1. Alexander Ovechkin, LW
2. Evgeni Malkin, C
3. Sidney Crosby, C
4. Ilya Kovalchuk, LW
5. Zach Parise, LW
6. Ryan Getzlaf, C
7. Jarome Iginla, RW
8. Pavel Datsyuk, C
9. Nicklas Backstrom, C
10. Dany Heatley, LW
11. Vincent Lecavalier, C
12. Joe Thornton, C
13. Jeff Carter, C
14. Martin St. Louis, RW
15. Jason Spezza, C
16. Henrik Zetterberg, C
17. Daniel Alfredsson, RW
18. Rick Nash, LW
19. Corey Perry, RW
20. Patrick Kane, RW
21. Eric Staal, C
22. Marc Savard, C
23. Daniel Sedin, LW
24. Mike Richards, C
25. Michael Cammalleri, LW
26. Alexander Semin, LW
27. Simon Gagne, LW
28. Patrick Marleau, LW
29. Bobby Ryan, RW
30. Jonathan Toews, C
31. Devin Setoguchi, RW
32. Marian Gaborik, RW
33. Martin Havlat, RW
34. Thomas Vanek, LW
35. Olli Jokinen, C
36. Henrik Sedin, C
37. Patrik Elias, LW
38. Derrick Brassard, C
39. Milan Michalek, LW
40. Daniel Briere, C
41. Johan Franzen, RW
42. Alex Kovalev, RW
43. Brenden Morrow, LW
44. Shane Doan, RW
45. Marian Hossa, RW
46. Brian Gionta, RW
47. Jason Blake, LW
48. Kris Versteeg, LW
49. Derek Roy, C
50. Nik Antropov, RW