Random Thoughts
Before I get started I want to apologize. I've been MIA for quite some time and my posting has been so inconsistent I've had to swear to people that I'm not Phil Kessel. But to be fair, I've been busier than Bruce Boudreau's digestive system.
Now that I got that out of the way, it's time to get focused. Lots has happened since the last time I posted, so I'm going to try and quickly sum up some thoughts about it all.
*First and foremost, people need to lay off of Rebecca Black. While the song 'Friday' contains stupidly obvious lyrics, the song has been of great benefit to people like Marc Savard.
*Ron Wilson proved Charlie Sheen wrong. Just because you're an idiot and spew controversial stupidity, doesn't mean you're winning.
*The Leafs have the Men In Black working for them. Remember that whole Ron Wilson/Phil Kessel thing? never happened.
*Speaking of Ron Wilson, with 608 career losses, I think everyone forgot to congratulate him on 600 losses.
*There's an endless amount of must-win games you can lose and still be in it.
*Remember when Forsberg came back for that weekend? That was weird.
*When Matt Cooke goes to see the Great Oz, he should ask for a brain and maybe some hockey skills, too.
*The Habs wanted to send the Bruins a message. Somewhere along the way, that message was misinterpreted as "Score a touchdown on us!"
*Watching Bettman try to keep an NHL team in Phoenix is like watching Shogun Rua trying to hold on to his UFC-title against Jon Jones.
*Most doctors told Sidney Crosby to sit out the rest of the year. He is practicing again based on a second opinion from Dr. Recchi.
*What Chara did was disgusting and despicable. He made Flyers fans proud.
*And finally, driving around Toronto over the weekend, I came across this: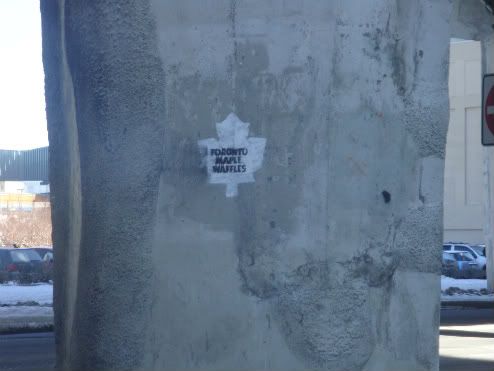 Thanks for reading. If I'm not back before Christmas, Merry Christmas! (Maybe the Habs will score a goal by then)
Patrick Storto
http://twiiter.com/PatStorto