Thank You Notes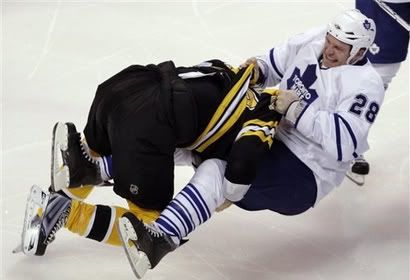 Colton Orr delivers a piledriver to Steve Begin of the Boston Bruins
The week is almost over, which means it's time to wrap up some topics with some special thank you's. I figured I'd give out this week's thank you notes on high note before the Leafs inevitably ruin the rest of my week. Since I am in a good mood, I have more thanks to give out than usual, so let's get right to it,
Thank You...Atlanta Thrashers for showing your support for the ethical treatment of the elderly by calling up Chris Chelios this week.
Thank You...Trade deadline for your suspense. Skipping work to find out where Chris Peluso might end up was well worth it.
Thank You...Capcom for including Mikhail Grabovski as an unlockable character in the new Street Fighter video game.
Thank You...Matt Cooke for helping me fall asleep last night.
Thank You...Sidney Crosby for skipping the Late Show with David Letterman this week. There's no point in going on a show where the host scores more than you do.
Thank You...Eklund for your trade deadline coverage this year. If it wasn't for you I wouldn't have been able to read Bob McKenzie's tweets.
Thank You..."Plan The Parade" jokes for getting funnier every time.
Thank You...Baseball for allowing me to take my mind off of the Leafs and actually feel good about a sports team in Toronto. I haven't really followed the offseason transactions but I really think this is the year that Roy Halladay will carry the Blue Jays to the post season.
Thank You...Roll Up The Rim for your best prizes yet. Along with 40 Toyota Rav4's, this year's top prizes include 10 Leafs' first round picks.
Thank You...Kyle Wellwood for your outstanding performance in Tim Burton's Alice and Wonderland as Tweedledee and Tweedledum.
Speaking of film, Thank You...Montreal Canadiens for your understanding. Even though you weren't nominated for an Academy Award, I really think you guys deserved some consideration for Best Live Action Short.
And my last Thank You is actually not mine, it comes from Leafs' defenseman Mike Komisarek who would like to say,
Thank You...Colton Orr for scaring off Milan Lucic.