Top 10 Surprises Of The Season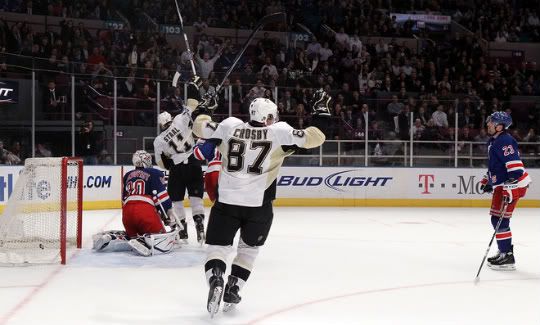 I'm supposed to be getting Leaf fans ready for the 2010 NHL Entry Draft, but for obvious reasons, that won't be happening. Other than Burke's hour long state of the union address and the signing of goaltender Jussi Rynnas out of Finland, there hasn't really been a whole lot coming out of Leafland.
So instead I will try to find other ways to amuse you until July 1st, which apparently is the Leafs new draft day. Obviously that doesn't sound very good because not only has the free agent route of building a team proven to be unsuccessful time and time again, but the free agent crop this year is thinner than Ben Roethlisberger's moral line between right and wrong.
So with that said, I'm going to do a series of blogs bringing you the top ten of whatever I so choose. In this first addition I rank what I believe are the top ten biggest surprises of the 09-10 regular season. These are meant to be positive surprises, as I plan to rank the top ten disappointments in the next edition. With that said, here are the top ten biggest surprises of the 09-10 NHL regular season:
10. Drew Doughty, D, Los Angeles Kings
Yes he is low on my list and the reason is that while he did have an outstanding season, I saw it coming a mile away and so it really wasn't the most surprising breakout this season. I will admit however that I didn't see a 59 point season coming in his sophomore season. This kid is still learning the game, the sky's the limit on this young defender. An Olympic gold medal in his trophy case already as well as some valuable playoff experience that he'll gain this spring will really push him to the next level next season. He's already a Norris trophy candidate in just his second season in the league and there is no doubt in my mind that he will win quite a few of those in his career.
9. Duncan Keith, D, Chicago Blackhawks
When Keith was selected in the 2nd round back in 2002, I'm sure no one had imagined that he would put up 44 points in the 08-09 season and then top that again in 09-10 with 69 points. It really is amazing to see the development that Keith has undergone in his young career. All aspects of his game were solid this season, with a +21 rating and 16 power play points. Let's not forget that he too has an Olympic gold medal in his trophy case, winning the gold as a member of team Canada in Vancouver.
8. Steven Stamkos, C, Tampa Bay Lightning
If there's one thing we learned this season it's that there is no more questioning the talent of the 2008 1st overall pick. When Stamkos was taken 1st overall back in 2008, many expected Stamkos to be an immediate star in the league, especially the Lighting organization themselves who centered an extravagant marketing campaign around him even before they made the pick. But after a 46 point rookie season, many began questioning whether or not Stamkos could adapt at the NHL level, all along forgetting that he was an 18-year old entering the league. Well this season he pretty much doubled last years totals, posting 51 goals (winning the Rocket Richard Trophy along with Crosby) and 44 assists, good for 95 points on the season . With Lecavalier's play declining, Stamkos will now become the centerpiece that the Lightning and their fans will depend on to take them back into the playoffs.
7. Jimmy Howard, G, Detroit Red Wings
One thing that the Red Wings and their fans realized early on this season was that Chris Osgood was no longer going to cut it in goal. Given Osgood's shaky start, Jimmy Howard who had only played five games over the last two seasons, was given the opportunity of his life and he took the ball and never looked back. Howard came out of nowhere and posted an outstanding 37-15-10 record with 3 shutouts. He has also been named as a candidate for the Calder Trophy as the NHL's rookie of the year.
6. Sidney Crosby, C, Pittsburgh Penguins
Some of you may be baffled by this pick, after all how much more can Crosby surprise us? Here's a guy who at 22-years old has already captained a team to a Stanley Cup and won an Olympic gold medal. Well Crosby managed to surprise again this season. Crosby is known more for his play making than goal scoring and yet this season he managed to score 51 goals, the highest in his career by a huge margin. That number was good enough to win the Rocket Richard Trophy alongside Steven Stamkos who scored the same number of goals. I don't know how he did it, but Crosby managed to surprise once again.
5. Craig Anderson, G, Colorado Avalanche
While not the best goaltender of the season, the Avalanche goaltender has definitely been one of the most surprising. I would argue and I'm sure that most would agree that the Avalanche would not have been in the playoffs had it not been for the outstanding play of Craig Anderson. Anderson was a back-up goalie in Florida only a season ago. He signed with the Avalanche in the offseason and put up a 38-25-7 record with 7 shutouts, managing to carry the Avalanche into the post season.
4. Henrik Sedin, C, Vancouver Canucks
Henrik Sedin has always been an under appreciated player outside of Vancouver and has been somewhat overshadowed by his twin brother Daniel who is known more for his goal scoring. But Henrik has always quietly put up solid numbers and I expected another 75-80 point year from him this season. Well this season Henrik came out of the gate on fire and he never let up. He was able to put up 112 points and take home the Art Ross Trophy. Considering that trophy was expected to go to one of Ovechkin, Crosby or Malkin, it was a huge surprise to see Henrik Sedin fighting for it all season long and ultimately winning it.
3. Matt Duchene, C, Colorado Avalanche
As Tavares and Hedman battled last season in the rankings to see who would be selected first overall in the 2009 draft, there were some who believed that maybe Duchene should have been selected first overall. Well those people look like geniuses right now. Duchene brings much more to the game than Tavares' goal scoring. He brings plenty of qualities and intangibles that in my opinion compare to captain of the Chicago Blackhawks, Jonathan Toews. The Avalanche are playing their first season without longtime captain Joe Sakic since the team moved to Colorado. That is a huge leadership void to fill, but so far, it looks like Matt Duchene will fill it just nicely. In terms of statistics, Duchene put up 55 points this season, with 21 power play points. He is a candidate for the Calder Memorial Trophy as the NHL's rookie of the year.
2. Tyler Myers, D, Buffalo Sabres
One of the biggest surprises of the 09-10 season was Sabres rookie defenseman, Tyler Myers. Myers was selected in the first round in the 2008 draft, but was sent back down to junior last season to work on his game. Going back down for a season was definitely the right decision because a completely different player entered the NHL this season. I talked earlier about Doughty breaking out in his sophomore season after a decent rookie season. Well Myers was in his rookie year this season and managed to score 48 points and put up a +13 rating. The defense core in the NHL has never looked better, especially with the likes of Myers, Doughty and Keith. He may not be the best of the three right now, but Myers is definitely the biggest surprise of the three this season.
1. Ilya Bryzgalov, G, Phoenix Coyotes
The most surprising player of the season was also the best goaltender of the season in my opinion. Ilya Bryzgalov, who has been named as a candidate for the Vezina Trophy had an outstanding season and on the most unlikely of teams. Before the season started, nothing seemed to be going the Coyotes' way. Now, largely because of the play of Ilya Bryzgalov, the Coyotes find themselves in a tight playoff battle with the Detroit Red Wings. Bryzgalov put up an outstanding 42-20-6 record with 8 shutouts. He had a 2.29 GAA and a .920 SV%. Bryzgalov was by far the most surprising player of the season for me.
Feel free to share your rankings in the comments below.
Patrick Storto