Weekly Thank You Notes: Olympic Edition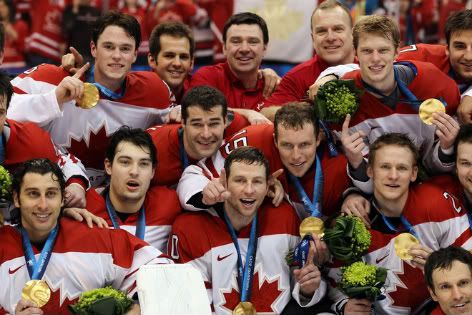 Well the Olympics, sadly are over. Having the trade deadline three days after the Olympics was actually well planned by the NHL. It really takes the fans' focus off of how much of a drop off of exciting hockey there is when you return to NHL hockey games from Olympic hockey games.
But that's just bitter me talking, after all, the most exciting Leaf game this season was probably opening night, when we were still in the playoff hunt.
But regardless, I'd like to give a big thumbs up to the city of Vancouver for putting on a truly remarkable Olympics. I would also like to thank a few others, so if you guys would just bear with me...
I'd like to say:
Thank You...NBC for your delayed coverage, I can now relive all of the great moments from these games as you are still only half way through day 3. Wait what's that? you're not showing any great moments from these games?
Thank You...Slalom event for providing so many different versions of yourself. I can't wait to see the Epic Giant Huge Slalom in Sochi.
Thank You...20% of Canadians that watched no part of the gold medal game, we're sad to see you go and we'll be more than happy to help you pack.
Thank You...Stephen Harper, for proroguing parliament just so you could be at every major Olympic event via my tax dollars. Thumbs up, no seriously I would have done the same.
Thank You...Canadian Women's hockey team for breaking as many laws as possible in less than a half hour. You guys managed underage drinking, drinking in public and smoking indoors. Thumbs up, no seriously this time I mean it, I would have done the same.
Thank You...Eklund for your outstanding live cellphone coverage of these games. I'd poke more fun, but I think you actually did a better job than NBC.
Thank You...Canadian IOC for your "Loan the Podium" program, it was really successful with the Americans taking home the most medals.
Thank You...Zach Parise for tying the game with less than thirty seconds left so that Canadians could witness the game-winning goal of our generation.
Thank You...Brian Burke, Ron Wilson and Phil Kessel, you guys really made fans in Toronto happy for once.
Thank You...Russia for your constant whining at these games, from Plushenko to Ovechkin, you really reminded the world why nobody cares about Sochi 2014.
Thank You...Alex Ovechkin for your impressive hit on Jagr. I guess it's almost like winning a Stanley Cup and an Olympic Gold Medal.
And finally, Thank You...Jacques Rogge for allowing these great games to happen in the beautiful city of Vancouver. If it was up to Bettman, these games would have been in Nashville.