Thank You Notes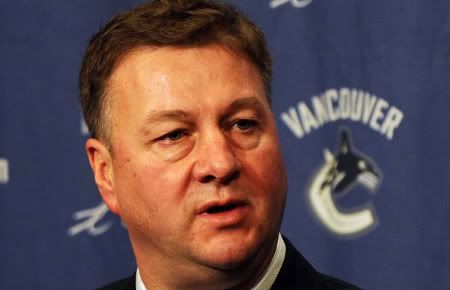 I'm going to make this introduction short and irrelevant, and no it's not about the Montreal Canadiens. That will come in a little bit. The preseason is underway and we are now exactly two weeks away from the start of the NHL season, also known as the Leafs offseason. So I thought, what better way to kick it all off than by handing out some thank you's to those who deserve it, so let's get started,
Thank You....Darryl Sutter, for bringing back some old timers to play this season. It's a good way to get the fans excited about nothing by bringing back a couple of old timers from way back in 2008.
Thank You.....Brian Burke, for bringing in some real players so Leaf fans can go out and finally buy some jerseys. What idiot was going to go out and get a Vesa Toskala jersey?
Thank You....to the Tampa Bay Food Bank for getting Dan Ellis back on his feet this summer after a stressful couple of months without paychecks. And no Mr. Boudreau, you cannot withdraw steak fajitas, this isn't that type of bank.
Thank You...Lou Lamoriello for trying to take advantage of the NHL like it was Darryl Sutter's mental awareness. We all learned the valuable lesson that just because other people have done it, doesn't mean that you can.
Thank You....Montreal Canadiens. A couple of years ago the Canucks showed that not every captain has to be a skater. This year the Habs are trying to show that not every captain has to be able to ride the big roller coasters.
Thank You....Boston Bruins, for waiting until most hockey pools had completed their drafts before telling everyone about Marc Savard. I hope Zdeno Chara waits until after the trade deadline to let you guys know about his season ending injury.
Thank You....Khabibulin for attending your alcohol abuse program. Even though you play in the West, I'm sure all the Flyers fans gave you a warm welcome. And don't worry about prison, I hear Devils fans are good people too.
Thank You....to witnesses in Vancouver for bringing justice to Mikhail Grabovski who punched a husband and wife during the 2010 Winter Olympic Games. It was also announced this week that the victims, Daniel and Henrik Sedin, have filed a lawsuit against Grabovski.
Thank You....Mike Gillis for showing his team that he takes accountability seriously, and it all starts in goal. Mike Gillis' message is simple, "if you're going to stink in net, we're going to make a trade for Keith Ballard, and then we'll see if you let in soft goals with the thought of being executed on the spot."
And finally,
Thank You....HBO, your series "Hard Knocks," which followed the New York Jets through their training camp was so great, I can't wait until next season. Although, I noticed you changed the name? Well who cares, I'm sure "Hard Knock Life" which will follow Dan Ellis through his offseason routines will be just as great.
And thank you all for reading,
Patrick Storto
http://twitter.com/PatStorto