4th Time's The Charm?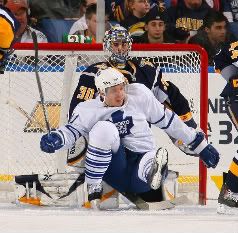 The Leafs are undoubtedly struggling against the Sabres this season, so far posting an 0-2-1 record on the season against them. They will look to avoid having their rear-ends handed to them again this evening as they host the Sabres at the ACC for the fourth meeting between these two this season.
The Leafs, like almost every other team in the league have been unable to solve Ryan Miller this season, who by the way leads the league in save percentage, goals against average and shutouts. He is also third in the league in wins, right behind Marty Brodeur and Fleury. The Leafs will need luck on their side tonight.
The Leafs can take a couple of positive notes into this game. For one, they finally beat the Boston Bruins, who were another team that had the Leafs' number this season. Gustavsson was huge in that game, recording his first career shutout and vaulting the Leafs right back into the playoff race...again.
However, that feat was somewhat overshadowed by the Johnny Boychuk hit on Stajan. I will say this, the hit looked clean to me, and Stajan should really know better than to have his head down. But the situation really revealed the character of not only Matt Stajan, but his teammates as well.
Stajan, who was hurting on the ice for quite some time, went to the locker room for some repairs and was right back out onto the ice. This is a guy that has had trouble gaining fan appreciation over the last few seasons and it really boggles my mind. There really is no other player on this team that works harder than Matt Stajan and his work has finally payed off these last couple of seasons.
Another positive that came out of that situation was that the first one in to defend Stajan was Tomas Kaberle and in his intermission interview with AM640, when asked why he went after Boychuk, Kaberle said that he thought it was a hit to the head and that when that happens, you have to go after the guy. Here is Kaberle, someone that you wouldn't expect to get into scrums, someone who most said didn't have the leadership qualities to be the captain of this team, he is the one sticking up for his teammates and he gets it. He gets what this sport is about. Unfortunately he gets branded with the European stereotypes, but Kaberle is very much a North American player now and he should be the next captain of this team.
Moving onto tonight's game, the key to winning for the Leafs tonight is beating Ryan Miller. The Sabres have had a tough time scoring this season and will wait for the Leafs to make mistakes to capitalize. The Leafs need to play as much mistake-free hockey as possible and eventually they will be able to get to Miller.
Here are some players in tonight's game to look out for:
5 Game Hot Streak
Patrick Kaleta

He has 3 goals in his last five games, including a game winner.
Toni Lydman
He has 1 goal and 3 assists in his last 5 games, for a total of 4 points.
Matt Stajan

He has 2 goals and 4 assists in his last 5 games for a total of 6 points.
Phil Kessel

He has 3 goals and 2 assists in his last 5 games for a total of 5 points.
Alexei Ponikarovsky

He has 2 goals and 3 assists in his last 5 games for a total of 5 points.
-----------------------------------------------------------------------------------------
The Leafs offense has vastly improved during the month of December, but once again the Ryan Miller factor will limit the success they have this evening. The Leafs will need to play sound defense and give the offense an opportunity to steal the victory.
Starting Goaltenders
Ryan Miller

Miller has been outstanding this season. He holds a record of 20-7-2 with a goals against average of 1.89 and a save percentage of .937. Against the Leafs this season, his numbers are even better; he has a record of 3-0-0 this season against the Leafs with a goals against average of 1.33 and a save percentage of .965. Those are some ridiculous numbers that the Leafs will need to topple if they hope to have a shot at getting the win.
Jonas Gustavsson

Gustavsson has had some impressive outings this season and is coming off his first career shutout on Saturday night against the Bruins. He holds a season record of 7-5-5 with a goals against average of 2.91 and a save percentage of .907. Against the Sabres this season his numbers are slightly better, with a record of 0-1-1, a goals against average of 2.86 and a save percentage of .908. The Sabres are a low scoring team, and so Gustavsson must be ready to bale out his teammates when the Sabres attempt to capitalize on their mistakes.
------------------------------------------------------------------------------
TEAM LEADERS
Goals
Niklas Hagman

15 goals
Thomas Vanek

10 goals (tied with MacArthur, but he has played 3 less games.)
Assists
Tomas Kaberle
29 assists
Derek Roy
18 assists
Points
Tomas Kaberle
32 points
Derek Roy
26 points
Power Play Points
Tomas Kaberle
17 points
Tim Connolly
12 points
Plus-Minus
Ian White

+9
Henrik Tallinder
+11
Average Time On Ice
Francois Beauchemin

25:11 mins
Tyler Myers

22:50 mins
---------------------------------------------------------------------------------
The Leafs have the clear offensive advantage. However, the Sabres have the obvious goaltending advantage. The Sabres also have a gem and a likely rookie of the year candidate that protects Miller, as if putting the puck behind Miller wasn't hard enough. Luke Schenn's former defense partner in Kelowna, Tyler Myers, is certainly making a name for himself this season. He has been impressive at both ends of the ice, and has been rewarded by the Sabres with increased ice-time. Myers is a clear example of what another year of junior can do for a player...I'm just sayin'.
Enjoy the Game this evening!