Ace In The Hole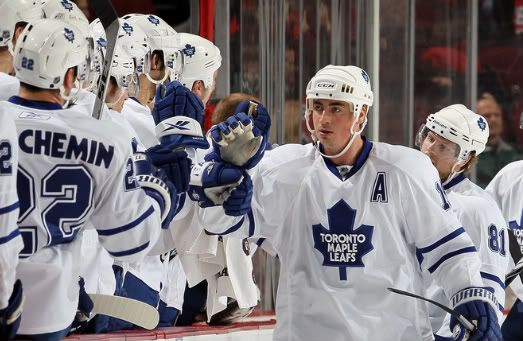 There was a little excitement among Leaf fans today when Kaberle told the media that he and Brian Burke had an agreement in place, where Burke would bring any trade offers he received to Kaberle and he would give it consideration. But excitement soon turned to disappointment as Burke told members of the media that they had explored the very few avenues that Kaberle made available to them and there was nothing.
The truth is, Burke wasn't trying and he was smart. Kaberle not providing a long list of teams was worse for Kaberle than it was for the Leafs. Given that the Leafs miss the playoffs, Kaberle's no-trade clause will expire this summer, giving Burke the option to trade Kaberle to 29 other NHL teams, regardless of whether or not Kaberle wants to play in the West.
Some will argue that Kaberle would attract more value at the deadline than at the draft. But that is simply not true. Kaberle is not a pending free agent, he is signed for one more season at the bargain price of $4.25 million. Kaberle is the Leafs' last chance to acquire another young top forward. Trading Kaberle at the deadline would not have given the Leafs that return, it would have given them draft picks and prospects. Getting a top forward when you're the basement team dealing with contending teams is not going to happen, they're not going to trade key pieces of their teams mid-season when they're making a playoff run.
Do you think the Bruins would have made that Kessel trade at last year's trade deadline when they were aiming for a Stanley Cup? At the trade deadline, teams can't trade, reevaluate and replenish like they can in the offseason when there are many more options to acquire players.
You might also ask why Burke didn't trade Kaberle in the last offseason and if he didn't do it last offseason, why would he do it now?
Well first and foremost, Brian Burke was trying to build a team for this season. Kaberle was and is our best defenseman. At the time, we did not have Dion Phaneuf on our team. The arrival of Phaneuf is what has made Kaberle expendable. Secondly, those two years left on Kaberle's contract will finally dwindle down to one, once this season ends. First let's get one thing straight, which is that Kaberle will be looking for a big pay increase, one that the Leafs cannot afford given the amount of money they have already invested in their blue line. From this we can infer that Kaberle will not re-sign with the Maple Leafs when his contract expires. Given that, Kaberle's no-trade clause will take effect once again next season if he is not traded, giving Kaberle the full authority to veto any trade Burke attempts to make from the beginning of next season until his contract expires next July. This means that if Burke does not trade Kaberle this summer, there is a very good possibility that we will lose him for nothing next summer. Given all these circumstances, I am 99.99% certain that Kaberle will not be a Leaf at the beginning of next season.
The UFA pool this offseason is more leverage in the hands of Brian Burke, as Gonchar and Kubina are really the only top defenseman that will be available, and they won't come at the bargain price of $4.25 million.
Now that we can all assume Kaberle will be traded this summer, the question becomes who will be the Leafs' trading partners? Well after some analysis, I have narrowed it down to four teams. Again this is based on my analysis, these are not rumours.
Trading Partner #1 - Anaheim Ducks
The Ducks finished the day by acquiring Visnovsky in exchange for Ryan Whitney. But looking ahead to next season, the Ducks have only three defenseman under contract and they are Visnovsky, Eminger and Festerling. Assuming they re-sign Wisniewski who is a restricted free agent, their defense core will still be very underwhelming. There is a very good chance that Scott Niedermayer will hang up the skates after this season. Whether he does or doesn't, Kaberle will be a perfect fit to fill the glaring holes in the Ducks' defense core. The Leafs will likely pursue Bobby Ryan in the deal. Obviously the trade won't be just Kaberle for Ryan, but they would be the centerpieces.
Trading Partner #2 - Philadelphia Flyers
I don't think that there is a team in bigger cap trouble than the Philadelphia Flyers. If there is one thing that the Flyers' need this offseason it's cap space. The Flyers know that they can't go into next season with $1 million goaltenders and expect to be a playoff team, let alone a Stanley Cup contender. But in order to sign one of the few goalies available this summer, the Flyers will need to make space. The Leafs will have a chance to take advantage here, as Kaberle is a player that the Flyers have been looking at for a couple of years now. No that old rumour of Jeff Carter and a 1st round pick is not going to be on the table, but you can bet that Burke would pursue Carter in a trade with the Flyers. If the Leafs take on some salary along with Carter in exchange for Kabere and a young player, I think it could work.
Trading Partner #3 - San Jose Sharks
Another team in pretty big cap trouble is the San Jose Sharks. Come July 1st, Marleau and Nabokov will become unrestricted free agents, while Setoguchi and Pavelski will become restricted free agents. That's a lot of cap money that the Sharks simply will not have room for. I think Burke covets Pavelski and I could see a situation where the Leafs give up Kaberle + for a package of Pavelski and Clowe. This would give the Sharks enough room to sign the trio of Nabokov, Marleau and Setoguchi, as well as picking up Kaberle as not only a replacement but an improvement of Rob Blake on their blue line.
Trading Partner #4 - Vancouver Canucks
I view the Canucks as the least likely destination among these four teams for Kaberle, but it's a possibility that hinges on the Canucks' playoff success. If the Canucks have a disappointing post-season, I could definitely see them pursuing Kaberle to help them next season. That is of course if they are willing to part with prized prospect Cody Hodgson. Again I don't really see this deal happening, but it is a possibility.
So given these scenarios, as you can see, holding onto the no-trade clause will likely not end in Kaberle's favour, as I see him most likely to end up in the West. Time will tell and I can't wait to see how it all unfolds.
Let me know what you think!
Patrick Storto