All Is Not Lost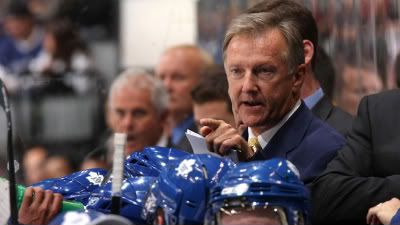 There was a lot of excitement leading up to the first Saturday night of the season, after all Saturday night means a lot to Canadians. So there I was in my seat at Wegz Stadium Bar planted in front of a massive 22 foot HD screen, ready to see the Leafs defense shutdown Alex Ovechkin and his crew. Well that lasted a whole 77 seconds. That area of the bar went pretty silent except of course that one guy who had his butt conveniently planted on the Capital's band wagon.
The goal was undeniably soft and I was hoping for a much better start. But given the fact that it was Ovechkin and it was their home opener, it seemed pretty much inevitable and so at first I gave Toskala and the team the benefit of the doubt after that one. I mean what team wouldn't be pumped after raising their Stanley Cup Southeast Division Champions banner?
Ultimately of course the Leafs recovery didn't start until well after it was too late. Gustavsson starting the second period was no help as the Capitals grabbed a 6-1 lead at one point. I'd like to say that both goaltenders were victims of the defense, which they were, but I simply cannot give Toskala the benefit of the doubt for this game. The weak goal that he let in to start the game ultimately did the Leafs in on Saturday night. I'm not saying they would have won, but it definitely would not have been as one sided as it was. That goal took out the Leafs' confidence and gave the Capital's a ridiculous amount of momentum to start the game, as if the roaring crowd wasn't enough. The defense started scrambling and ultimately left Toskala and Gustavsson hanging for the rest of the night.
My guess is that we will see Gustavsson on Tuesday night.
As I was leaving the bar before the start of the 3rd period, I thought to myself…"good!" I'm actually glad this happened, because make no mistake this was going to happen at some point this season, I'm just glad that it happened now. This was a wake up call for Brian Burke, Ron Wilson, the team and its fans. This team is good on paper, and on paper they're a playoff team in my opinion, but that paper means nothing. They're going to have to work a lot harder than they have, and there has to be a lot more discipline and it starts with Wilson. Sitting players is a necessity and Wilson is showing that he's not afraid to do that. Blowing a lead in the third at home to Montreal and then losing in overtime is not acceptable. The team and its fans can erase from their minds that they played better and deserved to win that game, because they didn't win and that's all that matters.
The Good: The Leafs are only 2 points out of a playoff spot
The Bad: They don't have a win
I know it's early, but Tuesday night is a must win against the Senators. The Leafs defense is going to have to get it together because they can't afford to fall this far behind this early.
(Photo: cbc.ca)