And With The 1st Overall Pick, The Boston Bruins Select...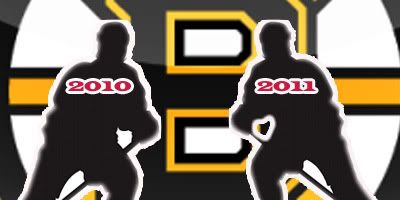 Ok so that has happened yet, but it sure seemed real in my dream. It's a nightmare that will be shared by many Leaf fans for the next couple of years, and there's no doubt that if the Leafs stumble out of the gate, it will put some bags under Brian Burke's eyes.
Could it happen? Sure. Am I worried? Not just yet. I'm confident that the Leafs have a much better team than they have had in recent years, a team that I am confident will not finish in the bottom ten in the league.
However, I'm going to make it clear that at the moment I am indifferent about this trade. I've heard both arguments, one side arguing that there is no guarantee that you would even get a 'Kessel' caliber player with those picks, and the second arguing that those picks are far more valuable than Kessel. I have to admit, I agree with both sides.
If the Leafs perform well this season and grab a playoff spot or fall just short, then I will agree that the pick is a small price to pay for Kessel. But, if for some reason the Leafs just absolutely tank this season, then this trade will definitely come back to haunt the organization. Watching the Bruins go up to the podium at either of the next two drafts and selecting in the top five with the Leafs' picks is sure to be a recurring nightmare for Brian Burke over the next two years.
What I can't seem to wrap my mind around is that if Burke made this trade, why not just give up the one first round pick and Tomas Kaberle back at the draft? I hated that proposal and I am in no way insinuating that it would have been a good trade for the Leafs, but I can honestly say that I would have been much more comfortable had Burke made that trade instead of this one.
But what's done is done. Aside from the over payment, I am excited to have Phil Kessel join this team. He's a great young forward with loads of potential. It's been a long time since the city has been excited about the acquisition of a great young forward, his name was Mats Sundin.
With all of that said, the Leafs' roster is shaping up to be quite interesting. While Burke was wheeling and dealing this evening, the Leafs were playing another preseason game, which saw them come back and defeat the defending Stanley Cup Champions, the Pittsburgh Penguins. It is also interesting to note that all four of the Leafs' goals came on the powerplay. Jason Blake, Jason Allison, Ian White and John Mitchell all had two-point games.