And So We Wait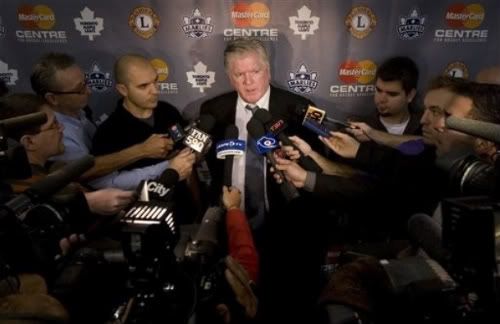 As the Kaberle trade deadline looms, Leaf fans are eagerly waiting, most panicking about the situation. As it stands Kaberle remains a Leaf and many fear that will still be the case on Monday morning. I stated a few weeks ago that I believed if Kaberle was dealt it would have happened at the beginning of August, not at the deadline. Obviously that hasn't happened and so we hope that something will happen within the next three days. With that said, I am still optimistic that something will get done and Burke fueled that optimism this morning on the FAN 590.
When asked about whether Kaberle would be a Leaf Monday morning, Brian Burke stated, "it's too early to say." Leaf fans might be scratching their heads at that comment, but Burke expanded by saying, "we're not going to see anyone's best cards until the last couple of days."
Think of it as a mini trade deadline day. Burke believes that general managers around the league will save their best offers for the very end in hopes that Burke may get desperate. In my blog a few weeks ago, my fear was that the Leafs would lose the leverage in trade discussions if they waited too long. If another GM got the sense that Burke was the slightest bit desperate, then the wagon would fall off its wheels. But I'll give credit to Burke, he hasn't buckled and has stayed true to his word in that he will keep Kaberle if he doesn't receive an offer he likes. Doing so has allowed him to hold the leverage.
Burke was very optimistic about the process in his interview on the FAN 590, which made me optimistic that a deal will in fact get done. I believe that Burke could very well have an offer on his desk that he is ready to accept if no better offers come through and he hinted at that being the case when he said "we've been offered a couple of what I call future's packages which include a high draft pick and a quality young player and we haven't ruled out doing one of those types of deals." That statement there suggests that Burke has an offer on the table that he likes, it's just not the one he was looking for.
Another thing that Burke touched in the interview was the type of forward he was looking for. Burke stated that he was looking for a big bodied winger who can score, not a center. That should put to rest the Savard rumours out there as he is neither big bodied nor a winger. While Marc Savard would be a tempting addition, he is not worth trading away Kaberle.
So stay tuned Leaf fans, it's not nearly over yet and it looks to be a dramatic weekend in Leafland.
Patrick Storto
http://twitter.com/PatStorto