Crushed Spirits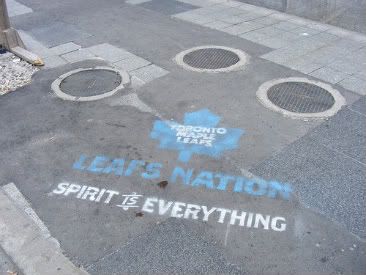 Likely one of the strongest and most enduring fan bases in all of sports, Leafs Nation is at a boiling point. Fans are enduring what is likely the most frustrating and disappointing season since the 08-09 season.
But this isn't about the on-ice product, this isn't about Leafs Nation's frustrations. This is about a city, or more importantly, a city council that makes a big issue over stenciled sidewalks.
For those that are not aware of the story, Maple Leafs Sports & Entertainment hired a third party marketing agency to promote the Leafs in a unique way around the city. They had between 25-50 sidewalks stenciled with the Leafs' logo and their motto "Spirit is Everything". Well Toronto city council feels that they had no right to do so, and has ordered the entire campaign to be cleaned up within 48 hours. For more on the story click here
Okay I understand that the marketing agency should have had permission from the city first. The Leafs are not at fault here, they were assured by the company that this was perfectly fine. But to come and make this such an issue is mind boggling. If anything, fine them, but 48 hours to clean up everything? Something tells me that the city is not happy about not getting their cut in this deal.
We're talking about the Leafs here. The Leafs are apart of Toronto's culture. It's not as if there is a rival company that will take offense to this matter, because the Leafs are no longer just another company to this city.
It makes me laugh because the city has no problem accepting the economic boost the Leafs bring to the city. All of the restaurants and hotels that benefit from a Leaf game, how dare the Leafs!?
Whether it's at a water cooler at work, or waiting outside of the ACC with your standing room only ticket, just to get a glimpse of the hockey mecca inside, the Leafs always come up in conversation in this city. It's a shame that this happens, and I'm almost sure that this would be a non-issue in Montreal.
Leafs fans should really speak up, this is no way to treat our culture.
Hopefully the city will come to their senses, but chances are you'll see the Leafs win Stanley Cup before that ever happens.
As for the Leafs side of things, it shows that MLS&E is finally having to work to sell tickets.
And as for the team itself, well they will be in Florida tonight continuing their game of catch-up. Gustavsson will be in net for the Leafs tonight and Vokoun will start for the Panthers.
Enjoy the game!