The Good, The Bad and The Ugly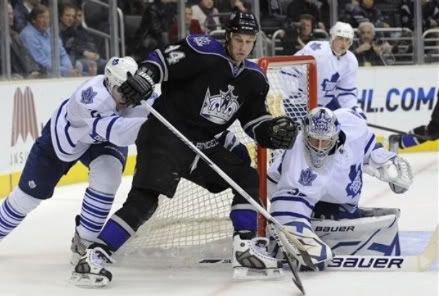 The first one was good, especially in its era, but times have changed. The previews for the second one looked good, but in the end it was a total flop. Now there's talk of doing a complete reboot, but the powers that be haven't officially given the project the green light.
No this isn't a Hollywood blockbuster, but if it was, I'm sure Leaf fans feel like this film is being directed by M. Night Shyamalan even though they were expecting Martin Scorsese.
I'm sure you guys know what I'm referring to, so let's break down the three guys I'm talking about:
Jean-Sebastien Giguere
| | | | | | | |
| --- | --- | --- | --- | --- | --- | --- |
| Season | Games Started | Wins | Losses | OT Losses | Goals Against Average | Save Percentage |
| 09-10 | 15 | 6 | 7 | 2 | 2.49 | .916 |
| 10-11 | 17 | 8 | 7 | 2 | 2.80 | .894 |
*The 09-10 stats do not include Giguere's stats from Anaheim.
Giguere's record is very similar to last season's record so far this season, but his personal stats are much worse. He's gone from a .916 save percentage with the Leafs last season to a .894 save percentage this season. What's odd is that he's managed pretty much the same record with far worse stats. What this tells me is that the team around him this season is much better than it was last season, thus you get one situation with bad team/good goalie and another with decent team/bad goalie, which ultimately produces the same record.
So what's Giguere's problem? Well it's no secret that he's been battling through a groin injury this season and I'm sure he has started quite a few games for the Leafs injured. Why would he do that? Well it's either the competitive nature inside of him or the fact that he's on the last year of his contract and he needs to show something to someone in order to get a new one next year. And so I fear that Giguere will be rushing himself back into the lineup once again as he his expected to rejoin the team later this week.
Jonas Gustavsson
| | | | | | | |
| --- | --- | --- | --- | --- | --- | --- |
| Season | Games Started | Wins | Losses | OT Losses | Goals Against Average | Save Percentage |
| 09-10 | 39 | 16 | 15 | 9 | 2.87 | .902 |
| 10-11 | 20 | 6 | 12 | 2 | 3.13 | .896 |
It's no wonder they call him "The Monster", those are some frightening stats.
What happened to this legend from Sweden? He was so good last season and now nothing. Except he wasn't so good last season either. Sure at first glance a 16-15 record looks decent for a Leafs goalie, especially for a rookie goalie, but those 9 overtime losses make the .902 save percentage easier to understand for a goaltender with a 'winning' record. No his stats weren't that great last season and they're not even close to decent this season. The hard truth, especially for Gustavsson supporters is that he's not fit for the NHL.
Don't get me wrong, I see spurts of talent here and there, but it's no where near consistent. Am I making Gustavsson the goat for this season? Maybe a little, but I'm not blaming him personally. Yes his play has been a huge problem this season, but it's not entirely his fault. At some point management should have had the intelligence to pull the plug.
The problem with Gustavsson is that he was never good enough to come over and be an immediate NHL player. He needed some experience in the AHL. I think there's still time to get him down there before his career in North America is ruined for good. Part of the problem with that though is Gustavsson will likely not be happy being sent down to the AHL considering that he signed in Toronto as a free agent when multiple general managers were to trying to get him signed. But if that's how Gustavsson is going to think, then so be it. He can go ahead and test the market again if he likes, it's not like the market for goalies is shallow, in fact it's as deep as it's ever been. There are likely to be many decent to good goalies available this summer, there's no way Gustavsson would be able to find a starting gig elsewhere. If he wants to be a starter, he's going to have to put in the work, and that means going down to the AHL to work on his game. It remains to be seen though if the Leafs' management has the guts to make a bold move like that.
James Reimer
| | | | | | | |
| --- | --- | --- | --- | --- | --- | --- |
| Season | Games Started | Wins | Losses | OT Losses | Goals Against Average | Save Percentage |
| 09-10 | - | - | - | - | - | - |
| 10-11 | 4 | 3 | 1 | 0 | 1.90 | .945 |
"The Statue" has been just that, solid. James "don't call me Jeff" Reimer has been a pleasant surprise so far in his young career and has captivated Leafs Nation. Sure it's only a four game sample and maybe a little bit of beginners luck, but Reimer has managed to post half as many wins as Jonas Gustvasson in 16 less starts. Yes you read that right.
What's even more amazing is that every single one of those wins have come on the road, you know the place where the Leafs have been atrocious.
The difference between Reimer's development and Gustavsson's development is that Reimer has actually been brought up correctly. Drafted in 2006 and about to turn 23 years old, Reimer has spent the last two seasons in the AHL with the Toronto Marlies.
In 26 starts with the Marlies last season, Reimer posted a record of 14-8-2 with a GAA of 2.25 and a SV% of .925. In 11 starts with the Marlies this season, Reimer has posted a record of 7-3-1 with a GAA of 2.73 and a SV% of .920. And it looks as if Reimer will get a chance to build on those stats as Ron Wilson announced earlier this week that when Giguere is healthy, Reimer will be returned to the AHL.
To me it doesn't make sense. Why not continue with the tandem of Giguere and Reimer? We thought Giguere would be the perfect mentor for Gustavsson, but why can't he be the perfect mentor for Reimer? They could even have Giguere play the home games and Reimer play the road games to keep the pressure off Reimer. But I guess all of this makes way too much sense.
Leafs' assistant GM Dave Nonis said on a Toronto radio show last night that it didn't make sense for the team to carry three goalies. Frankly I agree, it's time send down Gustavsson.
Patrick Storto
http://twitter.com/PatStorto