A Guide To Beating Ryan Miller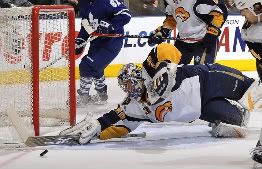 Ryan Miller has been unbeatable on most nights this season, and no team knows that better than the Toronto Maple Leafs. The Leafs have already fallen victim to Ryan Miller and the Buffalo Sabres 4 times this season.
The Leafs will only have two more chances to beat Ryan Miller, including tonight. But how can this team, which seems to be in shambles as of late, take down one of this season's true monsters?
The Leafs have a tall task ahead this evening, no doubt about it. The Leafs are desperate and you know your desperate when the Columbus Blue Jackets pulled two points ahead of you last night, despite being one of the league's worst struggling teams.
Keep in mind that with 36 starts already this season, Ryan Miller holds a record of 24-8-3. That's right, only eight regulation losses. So how do you beat Miller when he has been virtually unbeatable? Well let's take a look at those eleven losses:
| | | | | |
| --- | --- | --- | --- | --- |
| Date | Opponent | Score | GA | Shots Faced |
| Oct. 3 | Mon | 2-1 OTL | 2 | 17 |
| Oct. 31 | @NYI | 5-0 L | 3 | 16 |
| Nov. 6 | PHI | 5-2 L | 4 | 36 |
| Nov. 18 | FLA | 6-2 L | 5 | 23 |
| Nov. 20 | BOS | 2-1 OTL | 2 | 26 |
| Nov. 25 | @WAS | 2-0 L | 2 | 24 |
| Dec. 5 | NYR | 2-1 L | 2 | 32 |
| Dec. 7 | NJD | 3-0 L | 3 | 37 |
| Dec. 16 | @OTT | 2-0 L | 2 | 28 |
| Dec. 23 | @WAS | 5-2 L | 5 | 38 |
| Dec. 26 | OTT | 3-2 OTL | 2 | 40 |
Here's 5 things we can take from these losses on how to beat Ryan Miller:
1. Play a low scoring game: With a GAA of 2.05, the number one way to beat Ryan Miller is by beating him at his own game. Even in 6 of his 11 losses this season, Miller has only given up 2 goals. To think that Miller has only given up more than two goals in 5 losses this season is mind boggling. You need to beat him with goaltending.
The problem is that the Leafs are not capable of this. The Flyers game aside, Gustavsson has shown the ability to provide the Leafs with great goaltending. But this is not a case where the Leafs need their goaltender to keep them in the game, tonight they need their goaltender to win them the game. The problem is that the Leafs have not revealed who is starting tonight and after Wednesday night's catastrophe, you would think that Wilson has at least entertained the thought of starting Toskala this evening. Either way, I don't think the Leafs are capable of winning a goaltending duel with the Sabres.
2. Take a lot of shots: In the 11 losses, Miller has faced an average of 28.8 shots. Considering that he has a save percentage of .934 on the season, he will need to be obliterated with shots in order to be defeated. In fact that save percentage means that Miller is giving up an average of only 1 goal for every 16 shots he faces, which is incredible. The Sabres on the other hand are scoring an average of 2.79 goals per game this season. That means, in order to beat the Sabres, the opposing team will need to at the very least score three goals, which means that at the very least they will have to take 48 shots on net. Wow!
This is very good news for the Leafs. A little known fact is that the Leafs are number one in the league when it comes to shots per game. The Leafs take an average of 33.5 shots for per game.
3. Play in Buffalo: For whatever reason, Miller has been pretty much unbeatable on the road. In fact only 4 of his 11 losses have come on the road.
The Leafs will benefit from this tonight....well...sort of. The game will be in Buffalo tonight, but the HSBC Arena is sure to be filled with Leafs fans and so I don't really know if the Leafs have the advantage here.
4. Streaks Don't Last Forever: No matter how long one's streak is, no streaks last forever. Miller is a streaky goaltender. While he has mostly winning streaks, most of his losses this season have come on losing streaks.
Bad news for the Leafs is that Miller is not on a losing streak. The good news is that Miller is on a 3-game winning streak and the Sabres are on a 5-game winning streak.
5. Play Miller after he's beaten the Leafs: Go ahead laugh, but two of Miller's 11 losses this season have come in the games he's played after beating the Leafs. This has only failed twice, but one of the times was to the Leafs themselves when the Leafs lost back-to-back games. The one other time they beat the following team was against the Canadiens.
This doesn't really apply to tonight's game since the Sabres didn't play the Leafs last night, nor would it matter since I've already stated that the Leafs are exempt from this rule. But the Avalanche should be pretty happy since they get the Sabres tomorrow.
There you have it, five ways to beat Ryan Miller. Can the Leafs get it done tonight? For their own sake and safety (Ron Wilson looks like he could get dangerous) they better hope they can.
The Phil Kessel/Ron Wilson subject has been done to death, so I will just touch on it very briefly. I don't like Wilson calling him out to the media. Remember that this guy is still only 22 years old.
After tonight's game, the Leafs are back at home tomorrow night to take on the Pittsburgh Penguins.
Enjoy Both Games!
Patrick Storto