Gustavss-IN?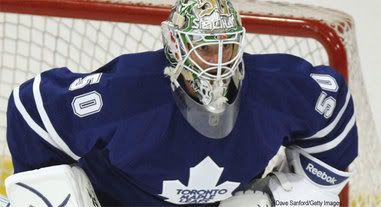 No not quite, MacDonald will start once again for the Leafs this evening, however Sportsnet is reporting that there is a chance that Gustavsson could be the back-up tonight instead of Reimer. Gustavsson, who has been out with a groin injury since his first start against the Senators back on October 6th has been anticipated to return on Monday in Anaheim. But the way Gustavsson has been speaking all week, it seemed that there was a chance that he could start tonight in Vancouver. But the coaching staff has made the right decision, there's no point in rushing him back and risking re-injury.
Can the Leafs win tonight? I think they can. They're pretty much coming off of a Bye week since they haven't played since last Saturday. They should be well rested and well prepared. They've had a week to prepare for the Canucks who are battling adversity with injuries mounting up. The main focus here is to find the scoring touch. Toronto's fourteen goals for are an embarrassing dead last in the NHL and is a huge reason why the team finds itself sitting dead last in the NHL. I'd like to be able to say that this guy and this guy need to step up their game, but really everyone on the team needs to step up their game.
Tonight's Impacts:
Luke Schenn: He's been facing a ton of criticism to start the season. He's quickly realizing that last year he was a rookie and was given a mulligan for his mistakes, a rarity by the Toronto fans and media. This season the expectations are higher. Look for Schenn to have a big impact in this game.
Viktor Stalberg: We all saw what he can do in the preseason. Unfortunately he suffered a concussion after being hit by Volchenkov in the game against Ottawa. He returned and played against the Avalanche and Rangers with minimal impact. But after another week of rest, he should be able to elevate his game. If the Leafs are going to win, it's because Stalberg is on the score sheet.
It's easy to say that the Leafs need to score more goals, but that will be no easy feat tonight with Luongo standing between the pipes for the Canucks. Yes Luongo has had a rough start, but we all know that it won't last and that eventually his game will pick up. The Leafs better hope that it doesn't happen tonight, because the team with the lowest amount goals on the season versus one of the best goalies in the league spells disaster.
It should be a good game tonight, and if the Leafs do win, I just hope Mike Gillis doesn't cry foul.