It's A Nice Day For A White Shredding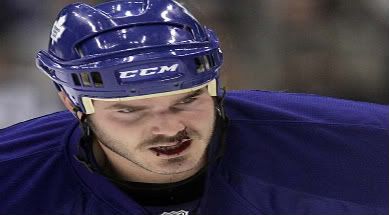 Among the struggles and among the hard work, the Leafs find themselves lacking identity. This last week or so, the Maple Leafs have been technically sound. From goaltending to offensive pressure, the Leafs are getting it done.
But it's a team that is difficult to identify. Sure both Gustavsson and Kessel are now the faces of the 09-10 Leafs are most likely many future versions of this team. And believe me when I say that Gustavsson has shown a ton of heart, because he really does care about winning, which has been evident in some of his struggles this season.
But someone who has stood out to me this season more so than Gustavsson has been Ian White. Ian White is everything a team looks for in a player. Sure he's small and not what you would define as a "Burke" type of player, but Ian White is making his pressence felt on the ice and on the bench. He has emerged as a voice for this team, and is really one of those players that you think about when you think of some classic NHL teams. There are not too many Ian White's left in this league you can be sure of that. Maybe I'm overrating him, but to me he has really stood out.
A lot can change in a year. Last year at this time, Ian White found himself on the outside looking in on the Leafs defense core. Leafs fans were calling on Fletcher to move White to ensure a roster spot for Anton Stralman. We all have opinions on how to manage a hockey team, and most of the time I'm glad that we are not in charge. Keeping White over Stralman is definitely paying off. Not only has White been offensively better this season, but his presence dwarfs that of Stralman.
Ian White already has 9 points this season in 15 games, and it looks like he will shred his previous career high of 26 points. However, and this is a big however, of those 9 points, only 2 have come on the powerplay. In fact, if you take away powerplay points, Ian White would rank 6th in the NHL among defensemen in even-strength points.
Let me be the first to say that Ian White has 50-point potential. He is already on pace for 49 points, and should he get some decent powerplay time, look out. Leafs fans were worried about their puck moving ability at the beginning of the season, but it seems that the Leafs have found their ace in the hole.
Aside from Ian White, the Leafs had a successful weekend beating both the Hurricanes and the Red Wings. The Leafs next game is tomorrow night at home versus the Minnesota Wild. This is another chance for the Leafs to take advantage of a struggling team. The Wild have struggled scoring goals this season, ranking 27th in that department. That should be a boost for the Leafs. Coupling the Wild's scoring struggles with Gustavsson's success should allow the Leafs to take advantage. But then again, a lot of teams find ways to cure their struggles against the Leafs. If this Leafs team wants its recent success to be taken seriously, they need to make sure that doesn't happen, and make sure they pick up two points tomorrow night.
Mike Komisarek is expected to play tomorrow night versus the Wild. He was listed as day-to-day after suffering a lower-body injury in Saturday night's game.
By The Numbers:
Gustavsson - has dropped his GAA down to 2.60 and pushed his SV% up to .918.
Kaberle - still leads all defenders with 18 points. He is on pace for the best statistical season in his career. His career high is 67 points.
Kessel - has 3 points in 3 games and has his first goal of the season and as a Leaf after stealing one from Jason Blake. I'm not so sure which one of them needed it more.
Enjoy the game tomorrow night!