Leafs Keep Rolling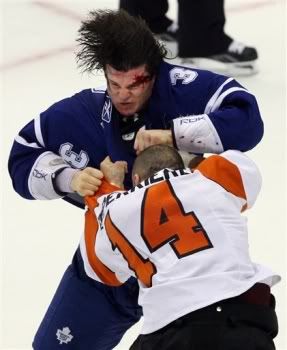 The Leafs continued to impress this evening at home against the Flyers, stealing the game in overtime after completing a comeback late in the third.
Tonight some of the veterans decided that they were not going to be upstaged by the young guns again, with two goals coming from Hagman, one from Stajan, one from Ponikarovsky, and the other from Beauchemin. Hagman's first was an absolute beauty, pretty much undressed every Flyer on the ice.
The Leafs truculence movement also continued this evening with fighting majors being handed out to Exelby, Komisarek, Orr, and Stempniak…yes you read that last name correctly.
The Leafs were able to overcome a 4-2 deficit and a two-goal performance by Daniel Briere and win the game in overtime. On a side note, Daniel Briere is going to be an excellent steal for fantasy hockey owners. He is going very late in drafts, mainly because he is coming off an injury plagued season, but if he can stay healthy, he will be a huge steal. My advice is do not let him go past the 8th round of your draft, as he is worth the risk at that spot. It's not too early that it will ruin your season if he does get injured, and if he stays healthy it could make your season. Two other Flyers that I would look to take late in your drafts if you are in a deep league are James Van Riemsdyk and Claude Giroux, with the first one having monster fantasy potential.
Back to the Toronto now, where word on the street is that Brian Burke and Phil Kessel have finally picked a wedding date and it looks like it will fall on June 25th, 2010 which happens to coincidentally be the tentative date for the 1st round of the 2010 NHL entry draft.
But in all seriousness…or not, the Leafs are having a good preseason thus far. I'm not sure whether or not to be serious because everyone keeps saying not to take the preseason seriously. So I decided to dig up some recent stats.
This is the Leafs' recent preseason records:
08/09: 2 – 7
07/08: 3 – 5
06/07: 3 – 5
05/06: 4 – 4
03/04: 6 – 4
The Leafs have been absolutely atrocious during the preseason in recent years, but it seems as if the tide has turned this year. They are 3 – 1 as it stands, and I really hope I haven't jinxed it. Interesting enough, the last time the Leafs have had a winning record in the preseason is also the last time they made the playoffs. Just sayin'…..