A Monster Performance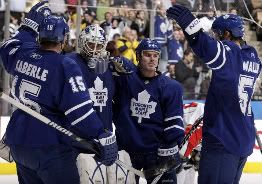 After Bryan McCabe gave the Leafs another dose of revenge and quickly last night, Gustavsson and the Leafs shut the door on the Panthers for the rest of the night.
McCabe scored both goals for the Panthers last night and both came in the first ten minutes of the game. It looked like it was going to be another long night for the Leafs in a game that they desperately needed to win, but fortunately for the Leafs, Gustavsson played great the rest of the night.
It's been no secret, right from the beginning of the season, that no matter how different and how much better the 18 skaters were, this team needed good goaltending in order to be successful. Unfortunately the Leafs have not been able to get that consistently this season, mainly because of the inconsistent health of both Toskala and Gustavsson and the inconsistent play of a healthy Toskala.
But since coming back from his second ablation procedure, Gustavsson has been outstanding and has given his team a chance in every game they have played.
Here are Gustavsson's stats for the games he has started since coming back from the second ablation procedure. The goals against average and save percentage reflect only the single game performance, while the accumulated goals against average and save percentage are accumulated over the following six games. Gustavsson goals against average for the season is 2.78 and his save percentage for the season is .908:
| | | | | | | |
| --- | --- | --- | --- | --- | --- | --- |
| Opponent | Result | GA | GAA | SV% | Accum. GAA | Accum. SV% |
| BOS | 2-0 W | 0 | 0.00 | 1.000 | 0.00 | 1.000 |
| BUF | 3-2 OTL | 3 | 2.83 | .900 | 1.46 | .945 |
| NYI | 3-1 L | 2 | 2.03 | .909 | 1.64 | .935 |
| MON | 3-2 OTL | 3 | 2.98 | .870 | 1.97 | .920 |
| CGY | 3-1 L | 2 | 2.04 | .941 | 1.99 | .925 |
| FLA | 3-2 W | 2 | 2.00 | .935 | 1.99 | .927 |
As you can see, Gustavsson's numbers have been stellar, but unfortunately the Leafs offense has run dry over this span and Gustavsson has had to settle for a mediocre record of 2-2-2. But at least for once, the Leafs can legitimately say that there is no question mark in goal. Yes Toskala will likely continue to see more starts than the average back-up goaltender, but Gustavsson has shown that he can carry the bulk of the workload. Let's just hope he can stay healthy.
As for the Leafs, they're back at it again tonight and will be the visiting team versus the Flyers. This surprisingly is just the first meeting between these two teams this season. These two split the season series last season with two wins each.
This is another crucial game for the Leafs as the Flyers sit only 2 points above them and only 2 seeds above them in the eastern conference standings, granted the Flyers have two games in hand. Regardless, a win tonight will put the Leafs right back into the the middle of the pack among the other teams chasing that final playoff spot.
Michael Leighton has been confirmed to be in net for the Flyers this evening. Leighton has either been really good or really bad in games this season. Leighton had an outstanding four game stretch to close 2009, winning all four games and allowing a total of six goals in those four games, including a shutout. However he has yet to record a win in 2010, losing the Winter Classic game, but still only allowed 2 goals against. He then followed that game with a horrendous 7-4 loss to the Ottawa Senators, so you can bet he will be looking to redeem himself against the Leafs this evening.
Nothing has been confirmed as of yet from the Leafs, but I imagine that based on last night's performance that Gustavsson will get the nod in goal once again for tonight's game.
Komisarek will miss tonight's game as well as he is still recovering from a shoulder injury. Primeau is expected to be out again as well and of course Grabovski is going to be out with the wrist injury for at least another five weeks.
I just want to give a thumbs up to the American junior team for their gold medal win last night in Saskatoon. These guys are the real deal and the game was an instant classic. It's easy to give up after blowing a two goal lead late in the third period and giving up all the momentum. But the Americans came out ready to win the overtime period and they got it done. Canadians should be proud of their team as well as they too never gave up and Eberle was able to solidify his spot in the hearts of all Canadians last night. So congratulations to both teams, next year's tournament in Buffalo will be all that more exciting.
Leaf fans, enjoy the game tonight!