A Monster They Can Fear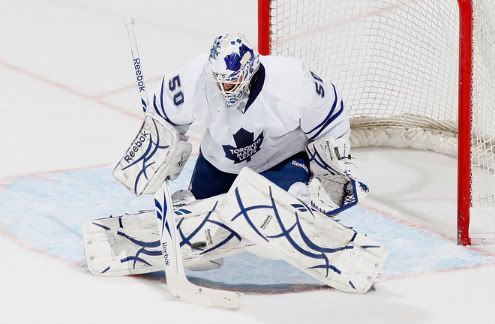 This isn't about the villain in an upcoming horror flick, but Leafs' netminder Jonas Gustavsson has lived up to his billing during the last stretch of the season. He won't get you in your dreams, but you better be wide awake if you want to have any success against this rejuvenated monster. It's almost as if since the trade that rocked this city, someone has hit the reset button on this kid. Unfortunately, there was no reset button on the Leafs' season.
Speaking of horror flicks and nightmares, I'm back. I've had a nightmare of my own this past week with my laptop crashing. Life without Internet has been no life at all. But for now, I've set myself up on a temporary computer while my laptop is under repair, so everything should be back to normal soon enough.
But back to Jonas Gustavsson. I wrote a blog a couple of weeks ago that touched on the players that have benefited most from the Phaneuf trade. Since then, Gustavsson has shown by far that he has been the most improved player on this team. His stats on the season show a GAA of 2.84, a SV% of .903 and an overall record of 16-14-8. However, in the games since the trade, Gustavsson's stats have been a GAA of 2.33, a SV% of .916 and an overall record of 7-2-0. A lot of this can be attributed to how much more calm Gustavsson has been between the pipes.
Earlier in the season, Gustavsson was getting more excited in games than Alex Ovechkin skating behind a vulnerable player.
But he seems to have much more composure now. I'm sure a lot of that has to do with the arrival of Giguere. Giguere is an experienced goaltender. I'd argue that in terms of experience, Giguere is second to only Brodeur among active goaltenders. There is a lot that Gustavsson can learn from Giguere, something he wasn't able to do with Toskala. It's hard to learn from a goaltender that really doesn't have that much more experience that you do and isn't even better than you are.
Another factor that has improved Gustavsson's game is that Leafs' defense. The Leafs defense really has changed from night to day since the the arrival of Phaneuf. A better defense means that Gustavsson doesn't always have to stand on his head to win games. He doesn't have to make the impossible saves every single game, or even every single period it seemed like earlier in the season.
One thing that really impresses me is Gustavsson's attitude. He wants to learn and accepts the fact that he is still just a young student of the game. He knows where he needs improvement after every game. Instead of coming up with excuses, he comes up with solutions. I'm very pleased with the fact that Giguere will be here one more year and give Gustavsson a full season to learn by his side.
I'll be honest, I was very skeptical of the Gustavsson signing. Undrafted free agents usually don't amount to much, but so far, this one shows light at the end of the tunnel.
As for the Leafs, they're home to the Buffalo Sabres this evening. Giguere will be in goal for the Leafs this evening and I assume that Ryan Miller will be in goal for the Sabres. With only five games left in the Leafs' season, the quest to climb out of the bottom of the East is looking less and less likely. They currently sit three points behind both the Panthers and the Islanders who both have a game in hand on the Leafs. A loss tonight will pretty much seal the Leafs at the bottom.
Enjoy the game!
Patrick Storto