A Most Difficult Stretch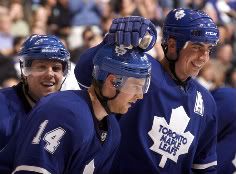 After taking another beating in Beantown Thursday night, the Leafs are back at it tonight at home versus the Capitals. Again, another difficult task for this what has so far been a mediocre team.
The Leafs have been impressive in most games this season, but that's what happens with mediocre teams. It seems that night in and night out you outwork the other team, but at the end of the day, you can't seem to walk away with two points.
Don't get me wrong, this team has definitely impressed me over these last couple of weeks, but they have also been equally frustrating. It seems just as they are about to gain some momentum and get on a roll, they come out flat, just like they did against Boston...twice.
It all starts in goal. Toskala has shown in a couple of games this season that he can get the job done and he can make the game changing save. Unfortunately, those were just a couple of games. The Leafs absolutely need some consistency in net if they're going to climb the standings, otherwise it's just going to be a roller coaster ride in the standings.
In some good news for the Leafs, Gustavsson returned to the ice yesterday after receiving his second ablation procedure. He's not expected to be back in the line-up until at least next week. If there ever was something to rally around for the Leafs, this is it. Gustavsson has been one of the most passionate and dedicated Leafs this season and it's rubbing off on others.
With the recent success that Toskala has shown he is capable of, these two pushing each other for the starting position could give the Leafs the consistent goaltending it needs. Toskala is not unfamiliar with this role as one of his most successful seasons came in San Jose when he was splitting time with Evgeni Nabokov.
But if the Leafs want to find some adversity for themselves as a team, they need to look no further than the upcoming schedule. After tonight versus the Capitals, the Leafs will host division rivals, the Senators on Monday.
After that, the Leafs will play a team that they likely circled as an easy win when the season began. But that has not been the story at all this season for the 18-11-2 Phoenix Coyotes. The Coyotes are second in the entire league when it comes to goals against and that is mostly thanks to the outstanding goaltending that has been provided by Bryzgalov.
Then after that game, the Leafs will play the Sabres, then the Bruins again, then the Sabres again...ouch!
It could be a long road to Christmas, or maybe the Leafs will have a most impressive holiday season, stay tuned!
Prospect Update
Nazem Kadri had two assists last night for the Knights, putting him at 38 points on the season.
Jesse Blacker had one assist last night for Owen Sound, giving him 13 points in 20 games.
Mikhail Stefanovich had one assist for the Remparts last night, giving him 23 points in 19 games.
Tyler Bozak had a goal and an assist for the Marlies last night, Stalberg had a goal and Hanson had an assist.
Enjoy tonight's game!