In Need of Confidence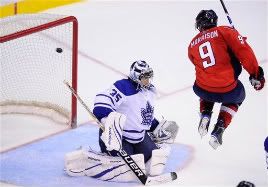 Everyone seems to have a different opinion on why the Leafs can't get it together. The list of people to blame seems to be growing; Burke, Wilson, Komisarek, Beauchemin, Kessel, Schenn, Stajan, Conan O'Brien, you name it.
Consistency has been a big issue for the 2009-2010 version of the Maple Leafs and has actually been a big issue since the lockout. But through all of the inconsistency, the Leafs have managed to be consistent in two areas.
For one, the Leafs penalty kill has been consistently bad. Very very embarrassingly bad. Sitting dead last in the entire league, the Leafs penalty kill percentage is a horrendous 69.6%. To put it into perspective, teams going on the powerplay against the Leafs have a success rate of 30.4%. Considering that the top powerplay percentage in the league belongs to the Capitals at 25.1%, that penalty kill percentage is just ridiculous.
This is not something that is going to fix itself overnight or even in a week. The Leafs penalty kill would have to increase by 10% immediately just to be mediocre. The playoffs are not a possibility with a penalty kill of 69.6%, not even if you gave them an extra 10 points right now. You simply cannot sustain competitiveness with a penalty kill that poor.
The Leafs have also consistently given up leads this season. Leaf fans saw it in back-to-back games this week, first against the Predators on Monday night and then again against the Thrashers on Tuesday night. No not one goal leads, the Leafs consistently give up two-goal and three-goal leads. It's frustrating and it's embarrassing. They were lucky enough to still come out on top against the Predators, but they weren't so lucky against the Thrashers.
Both of these issues boil down to confidence, which the Leafs are clearly lacking. The players step out onto the ice during the penalty kill and it's in the back of their mind that the puck is going to end up in the back of the net. The same thing happens when they are defending a lead.
With players like Kessel, Schenn, Gustavsson and Komisarek this can be corrected. These are players that are clearly part of the long term future of the team and they will be given every opportunity to turn their games around and we've already seen all four starting to turn the corner.
The problem is that the room is probably split when it comes to confidence. There are some players in the Leafs dressing room that have in all likeliness lost any sense of commitment to this team, and I don't blame them. Players like Ponikarovsky (even though he is scoring), Stajan, Toskala and most of the other pending free agents know that their time with the Leafs is most likely coming to an end at the end of this season. It's not that they can't regain their confidence, they're just going to have a much harder time doing so. While some of them obviously want to play well enough to be able to sign a contract with another team next season, some of these players just want this season to end already. I don't blame them either, I can imagine how I would feel if every day I was reminded how my job here was soon coming to an end. I can't imagine that I would be very motivated to perform for the team.
What happens next? Well it's obvious that the Leafs can't consistently win with these group of players. Burke has the option of disposing many of these players at the trade deadline. Then whatever he can't dispose of, he will have to let walk on July 1st. Next season the Leafs should be able to ice an entire team that is motivated to play for the crest on the front of the jersey. This should build confidence and then build areas of the team like the penalty kill.
This is still a transition year for the Maple Leafs, next year Burke will be able to ice his team as opposed to a team composed mainly of John Ferguson Jr.'s pending unrestricted free agents.
The Leafs are in Tampa Bay tonight where they will take on the Lightning who sit directly above the Leafs in the Eastern Conference standings with a five point lead and two games in hand.
Gustavsson will start for the Leafs this evening. Primeau is back in the lineup after missing nine games with a knee injury. Jeff Finger, John Mitchell and Rickard Wallin will be healthy scratches for tonight's game. Niitymaki is expected to be in goal for the Lightning.
Enjoy the game!