The Other Perspective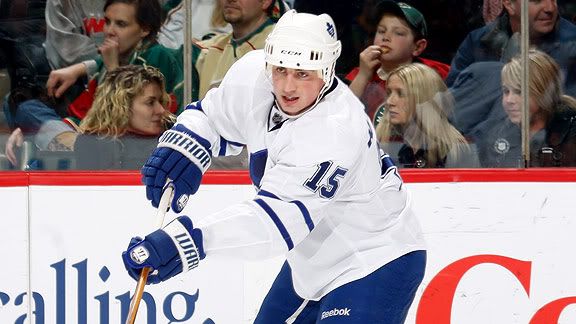 It has been a forgone conclusion for quite some time now that Tomas Kaberle would be traded in the summer window that we are currently in, one in which Kaberle's no-movement clause has been lifted for a month. It has also been a forgone conclusion that dealing Kaberle for another top-six forward will immediately improve the team. Well I'm sorry to burst your bubble Leafs Nation, but neither of those may be true.
Yesterday I wrote about the possibility that Kaberle will remain a Leaf and what would need to happen in order for that to occur. Well today I'm here to burst the bubble of hope that automatically assumes that the Leafs will be a better team once they get that top six forward in exchange for Kaberle.
The first thing that Leaf fans need to do is stop making themselves believe that Kaberle is just the spare part you found up in your garage that just happens to be worth quite a bit. There's a reason why Kaberle is worth what he is. Fans like to look at what last year's team accomplished and then add in the players that Burke acquired in the offseason, including the potential top-six forward the Leafs may receive in exchange for Kaberle. Once they've done this they assume that well because so and so have joined the team there is no way they wont improve on last season's results. There's nothing wrong in doing that, any reasonable fan would assume that given the additions of Versteeg, Armstrong and potentially Kadri that the Leafs' offense will improve. The mistake they make however is that they forget to subtract Kaberle.
Would the Leafs really be a better team next season by trading Kaberle for a young forward, hypothetically we'll say Setoguchi? I think in the long run, no doubt a deal like that would greatly benefit the Leafs. But Burke has stated countless times that he wants to start winning now, so given that, would a deal like that really help the Leafs?
Trading Kaberle for another top-six forward does not necessarily improve the offense. Let's not forget that Kaberle is a 50 point defenseman, and I'm sure most would agree that a 50 point defender is much more valuable to a team than a 50 point forward. Subtracting Kaberle for another 50 point forward is a huge risk for the immediate future of the Leafs, one that could really pay off or devastate the team in the immediate future. The outcome will depend on other players on the team.
Best case scenario would be that if Kaberle is dealt, Phaneuf regains his offensive form and re-establishes himself as a 50 point defenseman. Phaneuf played outstanding for the Leafs last season, but he did so in the physical aspect of his game and leadership. He was not the offensive presence that he was in years past for the Calgary Flames. If Phaneuf regains the offensive aspect of his game, the Kaberle trade will be a smooth transition and there will be no worries on the back end. If Phaneuf cannot however regain that form, well all of the sudden the Leafs have a glaring hole on defense.
Sure the Leafs will have a respectable set of forwards if the Kaberle deal goes the way they want it, but if Phaneuf can't move the puck up the ice then all the moves made to improve the offense will be all for naught. Personally, I'm quite skeptical about relying on players to regain form in order to have a successful season. Look no further than last season. The Leafs were supposed to be a playoff team last season because Vesa Toskala was going to enter the season healthy and would steal the show. Right, that's how it went.
Don't get me wrong, I'm not against trading Kaberle, I think it's important for the future of this team, but the keyword there is future. While it may potentially benefit the team next season, trading Kaberle for another top-six forward could also potentially hurt the team next season.
I'll have one more perspective for you on Kaberle; the most interesting and farfetched one yet.
Stay tuned,
Patrick Storto