A Tale of Two Cities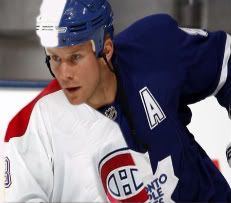 Every story has an ending. Whether it's one book or a Hollywood trilogy, eventually all stories close their last chapter and fans are left with memories. Unless of course you're a hockey fan.
Tonight is another chapter in what could be hockey's greatest storybook rivalry.
It's game number 699 between these two historic teams, with Montreal holding the winning record.
In 699 games between these two, the Habs boast a record of 331-274-88-5.
There is no love lost between the Leafs and the Habs, and history would dictate that nothing has changed. And you can be sure there will be no love yet again for Mike Komisarek this evening in the Bell Centre for his second appearance there in a Leafs jersey. Fans are not pleased with Komisarek's decision to skip town this summer and sign with their bitter rivals.
Other main characters in tonight's story include Sergei Kostitsyn and Grabovski. Kostitsyn has not played the Leafs yet this season, and so it will be interesting to see if these two bring the intensity against each other that they did last season. Phil Kessel will also be making his debut against the Habs in a Leafs jersey.
Aside from individual battles, there is a lot at stake in this game tonight. Both of these teams find themselves sitting outside of a playoff spot, with the Leafs of course in the bigger hole. It wouldn't be so bad for the Leafs, but of course they don't have their own first round pick this season. So as a result, both Gainey and Burke are feeling a ton of pressure thus far. But of course, Burke's job is likely not on the line, where as Gainey could very well see himself on the outside looking in at an NHL job.
In terms of offense, both of these teams are pretty even . The Leafs are scoring an average of 2.68 goals per game and the Canadiens are scoring an average of 2.54 goals per game. Goals against is an entirely different story. The Habs are sitting pretty average with 76 goals against this season where as the Leafs have allowed a horrendous 92 goals against.
With that said, I expect a close sloppy game, which has become the norm between these two.
Carey Price and Jonas Gustavsson are your starters this evening.
Enjoy the game!