Is There A Plan B?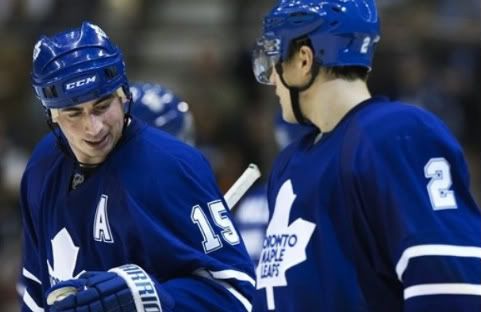 Whether you're happy with the outcome or not, the elephant in the room has finally been dealt with. And just in case there's any confusion, no Kyle Wellwood has not been signed by any team.
The end result, as I'm sure you all know by now is that Tomas Kaberle will remain a Leaf for the time being. After the dust has settled, I can honestly say that I'm happy Burke didn't just trade Kaberle for the sake of it. Of course I would have liked to see Kaberle traded for a decent return, but at the same time I'm also happy Burke didn't get desperate and pull the trigger on deals like the rumoured Ryan Malone for Kaberle deal late in the evening.
The problem now, as I've mentioned before is that the Leafs no longer have control over Tomas Kaberle. Theoretically, Kaberle can now play out the rest of his contract free from the threat of being traded somewhere he doesn't want to go. He may still have to deal with the media wondering whether or not he would be willing to waive his NTC if the Leafs are out of contention in March, but ultimately Kaberle is now pulling the strings. If Kaberle really wants to stick it to the Leafs, he can just walk away as a free agent next summer and there's not a thing Brian Burke or rabid Leaf fans can do about it.
Of course there's still the outside chance that the Leafs and Kaberle come to an agreement on an extension, but that seems very unlikely unless a couple of defenseman are moved between now and next summer. In terms of cap space alone, the Leafs would be able to do it as Giguere's $6 million cap hit will come off the books. Jeff Finger will likely be bought out at the end of next season which would free up another couple of million. So in terms of a raw cap hit, the Leafs would have no problem signing Kaberle to an extension. But the problem arises when you weigh the positions. The Leafs currently have $27 million tied up in their defense alone. That is monumental as it stands and so giving Kaberle his raise and also Gunnarsson who will be an RFA after this season would make that number beyond ridiculous. Realistically, the only way I see Kaberle being extended is if either Schenn or Beauchemin is dealt, or both.
Getting back to the current offseason, does Brian Burke have a Plan B? It's no secret that the Leafs' offense has holes and it's also no secret that Burke was looking to fill those holes with assets he received in exchange for Kaberle. Well obviously that hasn't happened, so what now?
Personally, and I know a lot of Leaf fans would have my head for this, but I'd like to see Burke dangle Luke Schenn around the league and see what he can get. I'm as big of a Luke Schenn fan as the next guy, I think he's going to be a really good player and he has a great personality. Unfortunately for Schenn, the way the Leafs defense has been built, I just don't see him ever getting a real chance in Toronto. With Phaneuf, Kaberle, Komisarek and Beauchemin already sharing the same ice, there is no way that Luke Schenn is ever going to see the same amount of ice time that he got in his rookie year.
Who knows, maybe Luke Schenn is a piece that would be able to land the Leafs Bobby Ryan or even someone like James Neal, both of which are still unsigned by their respective clubs. It's no stretch of the imagination to assume that both of those teams are having trouble getting their players under contract, so why not see if you can pry one of their best young players away by dangling one of your best young players who is under contract.
I know most of you are thinking that the Leafs have a history of trading away young players to win now, but this isn't the same thing. Trading Luke Schenn for another young player at the forward position is not mortgaging the future at all. It's not like we're going to trade him for Owen Nolan circa 2003.
I'm sure by now everyone knows that Burke loves the big deals, so we can expect the unexpected. I really don't think Burke will go into next season after watching the Bruins select Tyler Seguin with the Leafs pick with only the additions of Versteeg, Armstrong, Lebda and Brown. But I guess we will see.
Worst comes to worst and the Leafs don't add anything else and don't make anymore trades, how does the potential offense look?
- We have a 30 goal scorer, possibly even a 40 goal scorer in Phil Kessel.
- Tyler Bozak scored 8 goals in 37 games, which was an 18 goal pace, not bad for a rookie. He definitely has the potential to score 20 goals.
- Kris Versteeg has been a 20 goal scorer in each of his first two full NHL seasons, I expect no different this season.
- Mikhail Grabovski struggled last season after his ice time was reduced, but he did score 20 goals the year before as a rookie, he definitely has the potential to be a 20 goal scorer.
- Nik Kulemin is definitely a breakout candidate this season. He was one of the better players on this team especially in the second half of the season. I see him scoring 20 goals this season.
- Nazem Kadri has shown his determination to make it to the NHL. I see a bright future for Kadri because the Leafs have finally done things right with a prospect. Sending Kadri back to junior last season was definitely the right move and I believe it will pay off. At some point this season Kadri will be a regular player for the Leafs, whether that's right from the start or after serving some time in the AHL remains to be seen. Kadri has the potential to be a 20+ goal scorer in the future. Can he do it this season? It's not outside the realm of possibility as Kadri would likely receive a better opportunity with the Leafs in terms of ice time than he would with any other team in the league.
- Jerry D'Amigo is a name that gets Leaf fans excited. After his World Junior performance last year, there's no reason not to be. But at the same time, hopes that he will be with the big club this season are very premature. I don't even think he will be in the AHL. The best thing for D'Amigo right now is to go the OHL and light it up there for a season and fine tune his skills. The jump from college right into the NHL isn't an easy one. Bozak spent time in the AHL before joining the Leafs last season and he was already 23. D'Amigo is only 19, he needs time to mature and develop.
When you put it into perspective the offense doesn't look as doomed as we all think. Of course if possible it would be great to make a couple of more changes, but this group is developing and maturing together, there's no reason to suggest that they won't improve on last season. They'll also have a pretty solid defense core and two pretty good goaltenders to back them up should they falter.
Enjoy the rest of the offseason, I'm off to Florida on Wednesday for a much needed vacation and I won't be back until September so I likely won't be back on here until then unless the Leafs do something major.
Patrick Storto
- http://twitter.com/PatStorto