Tick Tock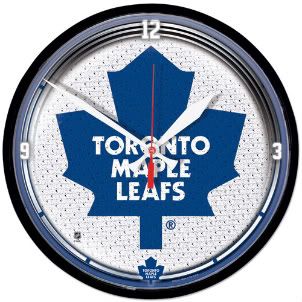 Right now Stan Bowman probably feels like a snow plow just pushed snow onto his drive way right after he finished shoveling it. After clearing out what seemed to be enough cap space by trading away Versteeg, Byfuglien, Ladd and Sopel, the San Jose Sharks signed the Blackhawks' restricted free agent defenseman, Niklas Hjalmarsson to an offer sheet. So what does this all have to do with the Leafs?
Well it's no secret by now that the Blackhawks will be matching the Sharks offer to Hjalmarsson. The Blackhawks decision to match the offer has actually potentially benefited the Leafs two-fold. On one side, the Blackhawks now have to clear more cap space in order to get Niemi under contract. On the other side, the Sharks have exposed their need for another defender.
What intrigues me is that the Sharks were willing to part with a first round pick and a third round pick for Hjalmarsson who they were going to pay $3.5 million per season. Well Kaberle is making $4.25 million next season and he would command a higher return than Hjalmarsson. Kaberle and the San Jose Sharks seems like a good match. No Kaberle does not want to go out west, but at this point he doesn't really have much of a choice and if he's serious about wanting to win a Stanley Cup, this might be a great opportunity for him.
I wrote before July 1st that I thought Kaberle would be eventually dealt to San Jose and that the Leafs would obtain Setoguchi in return. Well now two weeks later, that very deal is now in the rumour mill and it remains to be seen what happens next.
On the other side of things you have the Blackhawks who now have to clear space. The logical player out would seem to be Patrick Sharp and you can bet that Burke would like to have him wear blue and white next season. Hypothetically if the Leafs were able to acquire both of those players, the Leafs top six would likely look something like this: Setoguchi, Bozak, Kessel, Sharp, Kadri and Versteeg.
Where would that leave the likes of Kulemin and Grabovski? I think Grabovski is gone, I don't see how he can play on the Leafs top six and he doesn't fit the characteristics of Burke's third and fourth line roles. Kulemin could play on the third line, but that would mean that Caputi would also not be with the big club. So while it's nice to bring players in, Burke will also have to do a clean up job and find homes for the odd players out.
Things have been quiet the last week or so ever since the Leafs signed defenseman Brett Lebda. Many have attributed that to Ilya Kovalchuk and his indecision on where he will play next season. I am very surprised that he is still a free agent, but after seeing some of the rumoured numbers, I can see why. But I wouldn't panic too much, the offseason is still young and there is no way that Brian Burke is done, not a chance.
Burke lives for the big deal, and while he has made a bit of a splash this offseason, no doubt improving the Leafs offense with the likes of Versteeg and Armstrong, his plans for the offseason were definitely bigger than that. Don't forget that the Leafs currently have an overload on defense, so at the very least you can expect that you will see the Leafs make at least one more deal to make space on the back end.
I titled this blog 'Tick Tock' because I truly believe that clock is ticking ever closer to a Kaberle trade. I don't see this situation going into August because at that point the pressure will start to build on Burke to make the deal. I know that Burke has said that he would be more than happy to keep Kaberle, but with the abundance of defenders, I think that most people know that he's just saying what he wants other general managers around the league to think. If Burke doesn't trade Kaberle before his no-movement clause kicks back in, everyone including Burke knows that Kaberle will hold all the cards. Kaberle would become a pending UFA with a no-movement clause. The Leafs have been through that with Sundin, and I'm sure Cliff Fletcher will advise Brian Burke on not taking that route with Kaberle.
The only way Kaberle isn't dealt before his NMC kicks back in is if he signs an extension before then. I just don't see Burke as someone willing to take contract negotiations into territory where the player holds all the leverage.
Stay Tuned,
Patrick Storto