Trade Luke Schenn?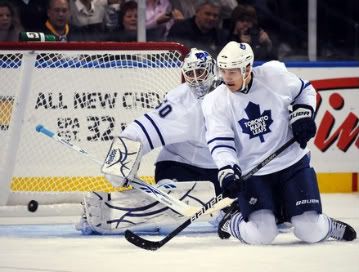 Today I was driving along listening to Leafs' Lunch with Darren Dreger, which I normally do whenever I get the chance, even though I know I shouldn't because the mental damage created by listening to that show is likely irreversible.
Today was no different, but instead of the usual callers, it was Dreger that got me shaking my head. Dreger suggested that Burke should send out a memo to other GM's in the league stating that everyone except for a select few are available for trade, and that Luke Schenn should not be among those select few.
Now I understand what Dreger is trying to do. It's a radio show, and it's not that interesting if you talk about the Leafs poor start because then it will be a one sided show. So I get the creating controversy aspect.
But seriously, we're 18 games into what has thus far been a disappointing season, and we're going to trade away our 5th overall pick from the 2008 draft just because? Yes Schenn has had a bad season up until this point, but except for Kessel, Kaberle and Gustavsson, who hasn't?
I just cannot understand the logic behind trading someone you selected two summers ago to be a core piece of the team for years. He's effectively gone from the white knight to all of the sudden being exiled out of the city, with no chance to be a young player learning the game. We've already seen it in Montreal this season with Carey Price and now in Toronto with Luke Schenn.
Young players go through slumps. If Luke Schenn had not made the difficult jump to the NHL in his draft year, this would effectively be his rookie season. Let him learn from this, what have the Leafs got to lose right now?
I think a big problem with the Leafs right now and with Luke Schenn is player roles. No one seems to know what their role is. Look at two players that have been positive notes for the Leafs this season. Gustavsson knows what his job is and Kessel knows what his job is. Schenn not so much. They went out and signed Komisarek to do basically what Schenn did last season and on top of that take on a leadership role, a role which Schenn was developing into last season. Then he can't fight because that's not his job either. And so I'm guessing that Schenn and a lot of players on the Leafs right now are confused, but Schenn especially.
There's a lot of dead ends on the Leafs' roster, weeds that will need to be pulled by the beginning of next season. But Luke Schenn is only 20 years old, he is still learning and developing. What has brought the Leafs into this mess in the first place is too many desperate moves. Trading Luke Schenn wreaks of desperation.
While he hasn't been as successful this season as he was in his rookie season, Schenn is one of those most passionate players on this team. You can see that he works hard, probably harder than anyone else on the team, except for maybe Gustavsson. He doesn't like to lose and that's an invaluable trait that I believe will pay dividends in years to come.
I respect you Darren Dreger, but this is not the solution.
So after Dreger got my blood boiling a bit, he then opens up the phone lines.
The caller proceeds to explain that the Leafs should trade Schenn, Kadri and Toskala to Anaheim for Getzlaf, a 1st round pick and Giguere...
I drove into a ditch...
what is wrong with some of you Leafs fans?