Turning Over A New Leaf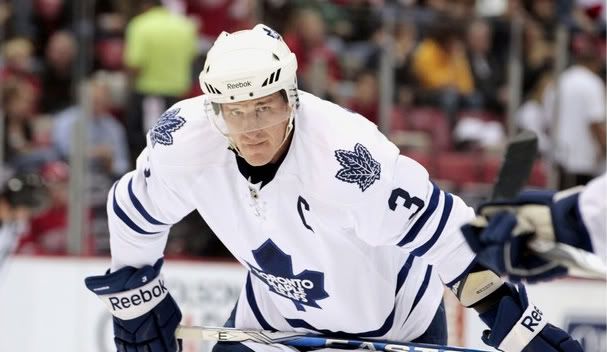 The much anticipated Leafs' 2010-2011 season is finally upon us. The Leafs and Habs will write another chapter in their storied rivalry tonight. I can't think of a better way to start the season than here in Toronto, instead of somewhere in Turkey or Belgium or wherever it is that Gary Bettman sent a few of the teams for their season openers. Nothing says thank you to your fans more than having their team start their season in another part of the world. Hurricanes fans won't even go to the games in Ralleigh, let alone Europe. But anyways that's getting off topic.
Back to the Leafs now. Yes, finally fans will get a chance to see this very hyped team in regular season action tonight. Yes there is a lot of hype and deservedly so. Brian Burke gained Leaf fans' trust almost immediately upon his arrival, but he has yet to deliver a successful team and he is the first to admit that. Now with that said, Burke didn't exactly inherent the gold standard of teams, he inherited a junk yard, and so the Leafs failures of the past two season cannot really be put on him. But that time to settle in is now over, this is very much Burke's team now, whatever happens now, whether it's success or failure, will be in his lap.
Burke said he would rebuild this team, and he has. After his first few moves as GM, including the trade for Phil Kessel, many 'experts' suggested that Burke wasn't rebuilding, but rather retooling. Well now a season later, it's pretty evident that Burke didn't retool the Leafs, he rebuilt the team. He rebuilt it differently than most GM's would have, but most GM's don't have a Stanley Cup ring. For those of you that disagree with me, those that say Burke didn't rebuild the team, let's look at his evening's starting lineup:
Versteeg - Bozak - Kessel
MacArthur - Grabovski - Kulemin
Sjostrom - Brent - Armstrong
Orr - Zigomanis - Brown
Beauchemin - Phaneuf
Kaberle - Schenn
Gunnarsson - Komisarek
Giguere
Gustavsson
Now let's look at the starting line-up for the 09-10 season opener:
Stalberg - Stajan - Blake
Ponikarovsky - Grabovski - Hagman
Wallin - Mitchell - Stempniak
Rosehill - Primeau - Orr
Beauchemin - Schenn
Kaberle - Komisarek
White - Exelby
Toskala
Gustavsson
How do you even begin to compare the two teams? They are not the same team, not even close. This team wasn't retooled, it was rebuilt. On a 20-man roster, there are 13 different players on the 10-11 opening day roster than there was on the 09-10 opening day roster. Amazing how much has changed in a year when you really think about it.
Anyways, tonight should be exciting, I'm pumped up, I know everyone here is pumped up. I'll meet you all at the live blog.
One piece of advice for both Leafs and Habs fans. Whatever happens tonight, don't measure the season by it. Historically, no matter who plays on these two teams, when they play each other anything can and will happen. In fact that horrendous opening lineup a season ago actually led the Habs in the 3rd period and took them to overtime.
And for Leafs fans, I'll close this with an awesome youtube video I found that previews the Leafs' 10-11 season with an Inception theme.
video credit goes to reanofilms:
Enjoy the game tonight everyone!
Patrick Storto
http://twitter.com/PatStorto