'Twas The Last Game Before Christmas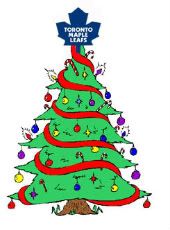 'Twas The Last Game Before Christmas
'Twas the last game before Christmas, when all through the league,
Not a Leaf was scoring, not even Kris Versteeg;
The fans' hopes were hung on Phil Kessel with care,
In hopes that a 50...40....30?....20 goal season would soon be there;
The Leafs were nestled all snug in their beds,
While visions of playoffs danced in their heads;
And Burkie in his Snuggie and Wilson on his lap,
Had just settled down with each other's gifts to unwrap,
Out of Wilson's gift there arose such a clatter,
a perfect cure for a losing streak, an Atlanta Thrasher.
Away to the team he flew like a flash,
while Burke opened his gift, a defender that cost a ton of cash.
On this last road trip, the Leafs decided to show,
Not a single team in the standings should be below,
When, what to their wondering eyes should appear,
Phil Kessel back checking, less believable than eight flying reindeer,
Sick of the Leafs, Burke put on HBO,
With a little bald man, wider than anything you know,
He knew in a moment...it must be Bruce Boudreau.
More rapid than eagles his curses they came,
And he whistled, and shouted, and called them by name;
"@#$% you Alex, Green and even you Semin!
Eat my @#$%'n cookies again and your moving to Yemen!
And then, in a twinkling, Burke heard on the roof
The prancing and pawing of each little hoof.
As he looked out the window and over the ledge,
It was more Leaf fans about to jump off the edge.
He urged them to stop, telling them things will get better,
there's another undrafted free agent that he will sign as the new center,
And then the Leafs will starting winning, into a playoff spot they'll be back,
But those Leaf fans just laughed, telling him he was on crack.
He soon realized that it would be another Christmas not so merry,
completely ruined, by his 'good friend' Peter Chiarelli,
From Seguin to possibly Nugent-Hopkins,
fans realize that this team is a bigger bust than Cody Hodgson,
With tears trickling down his face, Burke began to cry,
like he was Mike Richards, and someone told him to go die,
but then he thought for a second, all is not lost,
there's still one more card, the coach can be tossed;
A wink of his eye and a twist of his head,
Burke sought out his coach, to say what needed to be said,
He looked at Wilson, the coach he once admired,
he wished him a Merry Christmas, now the @#$% out, you're fired,
In that moment of joy, suddenly I woke up,
it was just another Leaf fans dream of winning the cup,
no such luck here tonight, as we know Wilson is here to stay,
so instead we're stuck watching another game that this miserable team will play,
This song is supposed to end with Santa saying,
"Happy Christmas to all and to all a goodnight"
But there is no Santa, just like there is no hope, none in sight
So I'll say Merry Christmas to all and enjoy another loss to the Thrashers tonight,
Patrick Storto
http://twitter.com/PatStorto