Welcome Back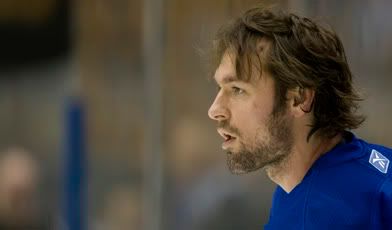 Tonight marks the return of a player that was once loved in Toronto. In return, he gave everything he could to this city and to this team. He bleeds blue and white and wears his heart on his sleeve. Unlike the other four from the infamous Muskoka Five, he was one that I truly believe did not want to leave because he loved it here. I understand Sundin not wanting to leave, but this guy really loved playing for the Leafs. He was asked to leave and he refused, and as a result he was forced to leave. A hardworking player who wanted to give his all night in and night out was stripped from the team to make room for elite talent that guys like Hagman and Mayers brought to the table. Burke said he didn't want to trade Kaberle because he would have to spend all summer looking for someone to replace him. Well Burke, you spent all summer looking for someone with real toughness and heart, and you could not find someone to match what this guy brought night in and night out, someone Cliff Fletcher booted out the door for really no reason other than for the sake of doing so, because the fans at the time thought it was the right thing to do. For your years of hard work……thank you Darcy Tucker.
Now to focus on the mess that is the Leafs, where do we start? How about a preview for tonight's game:
In case you were thinking that this was going to finally be an easy matchup for the Leafs, think again. First of all there are no easy matchups when you're the worst team in the league. Brian Burke was hoping that teams would fear stepping into the ACC, instead teams are looking forward to playing the Leafs now and leaving with the easy win.
The Leafs all-time record versus the Avalanche is 24 – 34 – 9 – 0
Peter Budaj will likely be between the pipes for the Avalanche this evening, as Craig Anderson played yesterday. Hopefully the Leafs do not take Budaj lightly. This will be a goalie looking to make a statement, as Craig Anderson has already solidified himself as the Avs top goaltender. Competition could light a fire under Budaj.
As for the Leafs, in a surprising yet not so surprising move, both Stajan and Hagman will be healthy scratches this evening as the Leafs have called up Bozak and Stalberg will return to the lineup after missing a couple of games due to a concussion. I like this move a lot, as Hagman has been horrible thus far and Stajan has been very inconsistent on the ice. You can preach accountability as a coach, but until you show some proof, whose going to buy into it? Well that's what Wilson is displaying here. Either you play hard or you don't play at all. Hagman looks like he's been having 60 minute brain farts out there.
Joey MacDonald will be in goal for the Leafs this evening. Like Budaj, MacDonald may also be looking to make a statement this evening, as he has been completely overlooked in goal in favour of Toskala and Gustavsson. MacDonald played in 49 games for the Islanders last season, posting a GAA of 3.37 and a SV% of .901.
Key to Victory
Dump The Puck In - The Leafs need to play a solid game. At 0-4-1, they need to get back to the basics. There really is no room to play with any finesse, if that even exists on this team. Dump the puck in and battle it out in the corners is the only way the Leafs are going to win. If they can execute this style of play, the Avalanche will get desperate and be prone to making mistakes.
My guess is that the Leafs will in fact pick up their first win of the season tonight.