JVR benefits from net presence
If James van Riemsdyk's current projections are any indication, Brian Burke's swan song may be a coup for the Toronto Maple Leafs.
The 23-year-old has eight goals and 10 points in 13 games thus far and has provided a net-front presence that's been lacking on the Leafs for a while. Consider that the average distance of JVR's goals is 14.9-feet (three came from rebounds in front of the net). If you're curious, here are the distances of each goal he's scored so far this season: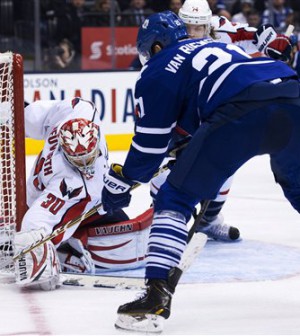 1 – 33-feet
2 – 9.5-feet
3 – 6.5-feet
4 – 19.4-feet
5 – 10-feet
6 – 9.5-feet
7 – 15.3-feet
8 – 16-feet
(Distances retrieved from ESPN)
JVR has shown a willingness to drive the net (three of his goals came from doing so) and his puck-possession has added a new dimension to the top line. In fact, he currently leads the Leafs in Corsi Rel QoC (measures puck-possession relative to quality of competition), but he likely won't remain the leader while on the top line, as Mikhail Grabovski and Nikolai Kulemin will face tougher opposition among forwards.
In terms of shooting percentage, van Riemsdyk's career average is 10.7 per cent. He shot 8.7 per cent in his rookie campaign and notched 15 goals, followed by 12.1 per cent with 21 goals, then 9.1 per cent with 11 goals (in 43 games) last season. This season he's shooting at 17.8 per cent, which is sustainable but might drop (he'd be on-pace for 54 goals over an 82-game season). In this 48-game season, he's on-pace for 30 goals, which would be quite the achievement but likely won't happen unless he's the reincarnation of Jesus Christ.
It's difficult to forecast van Riemsdyk's production because it's mostly based on his potential. While he was an effective player for the Philadelphia Flyers, he never met the high expectations accompanied with being a second-overall pick.
Van Riemsdyk was often criticized for his reluctance to crash the net and bury garbage goals, but head coach Randy Carlyle seems to have addressed that issue. He mentioned van Riemsdyk was initially timid standing in front of the net, but after he capitalized on a rebound against the New York Rangers on Jan. 26 the message appears to have been received.
One of the obvious factors in van Riemsdyk's rise in production is the increased ice-time. His TOI/G with the Flyers last season was 15:10, while averaging 2:47 on the powerplay. This season he's averaging 18:14 in TOI/G, with 3:36 on the PP. He's been most effective 5-on-5, however, as eight of his 10 points came even-strength.
JVR has a high ceiling offensively, so his productivity shouldn't come as a surprise. The obvious question is whether he can remain relatively consistent throughout the season and beyond.
Follow me on Twitter @RonGuillet
*Advanced statistics retrieved from www.behindthenet.ca