Wilson on the Leafs' Radar?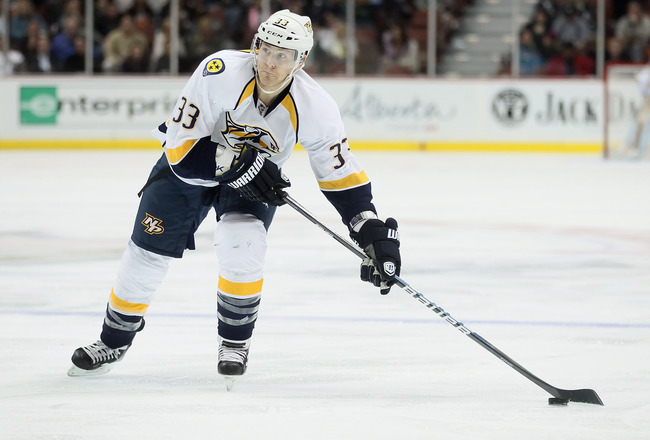 There is no credible hockey insider linking Colin Wilson to the Toronto Maple Leafs. This article is purely speculative based on tweets from Paul Hendrick, of Leafs TV and mapleleafs.com.
To put it simply, here are Hendrick's tweets in succession:
"Brian burke is back talking with pred gm david poile before going back to leaf draft table.#tmltalk"
"Schenn to flyers for jvr...leafs not done yet.#tmltalk"
When asked if the potential trade could go down today, which was Saturday at the time of the tweet, Hendrick replied, "Quite possibly."
It's possible the trade turned cold. It's also possible the general managers are banging out the details. It's also possible this has nothing to do with the Nashville Predators and has something to do with, say, the Vancouver Canucks? But for the sake of speculation, let's assume it is the Predators.
Wilson, 22, is a pending restricted free agent of the Predators with 185 NHL games under his belt. He is a 6-foot-1, 215-pound power forward that uses his size to create space in the offensive end, rather than throw the body (43 hits in 68 games last season).
He's also a puck-possession player and, would you look at that, a center. But Wilson had bouts with inconsistency last season, and it cost him on a deep Predators team.
The seventh-overall pick in the 2008 draft appeared in only four of 10 playoff games and was eventually replaced by Brandon Yip.
That, coupled with being a healthy scratch at times in the regular season, may lead to a fresh start for Wilson. Jim Diamond of the Examiner wrote, "Poile thinks the hurt feelings Wilson likely has about being removed from the lineup will be at the forefront of his discussions with Sheehy (Wilson's agent)."
Burke is in the market for a center and Wilson would certainly fit the bill. He's by no means proven, but his size and ability to drive possession could earn him an increase in ice-time compared to what he logged in Nashville (13:47 ES TOI/G, 2:19 PP TOI/G for 16:07 TOI/G, so he was used on the powerplay regularly).
Wilson's ability as a puck-possession player is crucial, as he registered a relative Corsi (on-ice Corsi minus off-ice Corsi) of 14.7 and ranked second among the Predators in that category.
This essentially means that Wilson was effective at directing the puck in the offensive end and maintaining possession. It's also worth noting that Wilson won 50.6 percent of his faceoff draws, but only took 77. In 2010-11, in which he played the full schedule, he won 47.4 percent in 228 faceoff draws.
Moreover, the market for centers isn't exactly booming. Unless Burke goes off the board to acquire an established top-six center, he may be forced to target unproven, and more affordable, talent and play some Russian roulette.
Wilson certainly has upside, playing in the 2008-09 World Junior Championship and scoring three goals and nine points in six games. He also produced 34 points in 40 AHL games.
While Wilson has a career-high 35 points in 68 games in the NHL, it's his potential that makes him an intriguing option. And if he is to be inserted as Phil Kessel's centerman, he'd likely be an upgrade over Tyler Bozak considering his size and ability to drive possession.
This all speculation, of course, and no one really knows what Burke is planning. Wilson would certainly be a logical fit, but perhaps Burke is swinging for the fences. Time will tell.
You stay classy, TCL.
Follow me on Twitter at @RonGuillet
Advanced statistics retrieved from www.behindthenet.ca.